Trades people all know how hard it is to accurately measure and estimate areas. Some incredible software for Tablet PCs can help you to get it right before you even leave the property.
The Apex Nexus software demonstrated below is one of the most intuitive Tablet PC applications that I've ever seen. It allows you to quickly and easily sketch lines while adding angles, curves and dimensions.
Importantly, you can quickly calculate accurate area. A trades person with this kind of power could even produce a quote on the spot. Goodbye competition!
With Nexus, you can sketch a house, a plan, a driveway, a window or anything that has lines and measurements. Click on the picture for a video demonstration.
The Nexus software is often used by:
Property valuers
Insurance assessors
Real estate agents
Construction engineers
Builders, concreters, pavers, landscapers, carpenters, carpeters, floor installers
Anybody who needs to measure and quote.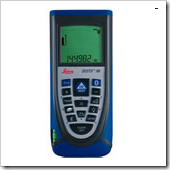 Nexus also works beautifully with Disto Bluetooth laser measuring devices. Amazing stuff!