USB-C has been around a long time now, and Microsoft's move to remove USB-A from their devices tells you that it's time to get ready and get on board with it. In this post, we'll look at some USB-C accessories that will make your life easier with the latest Surface devices.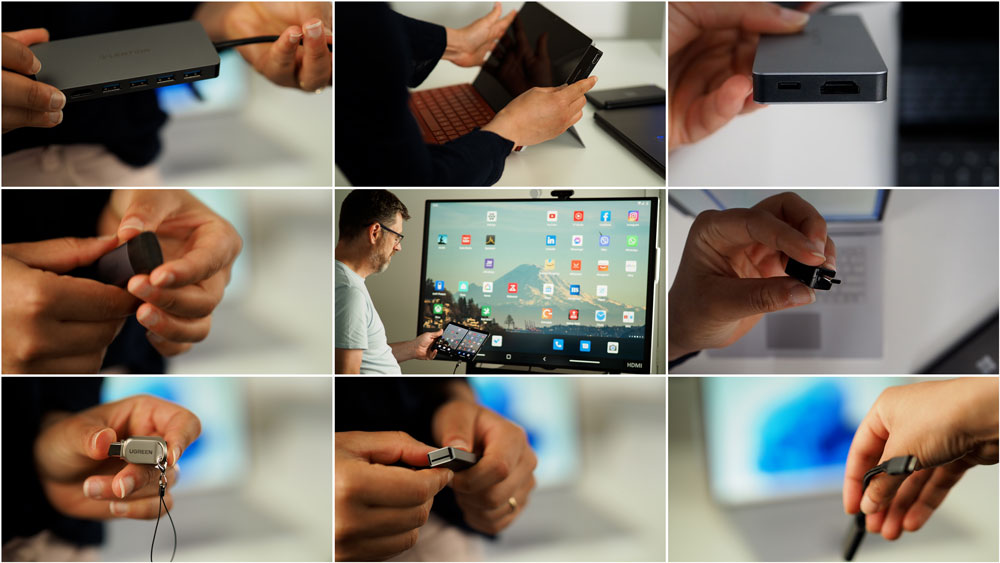 USB-A to USB-C Adapter
The first product that you'll want in your kit is a USB-A to USB-C adapter. USB-C carries forward compatibility with all your old USB devices. All you need is the right plug. So, with this very inexpensive and small adapter you can take any of your old devices with a USB-A connection and plug them into a USB-C port. Memory stick, hard drive, mouse, keyboard, camera, webcam – anything can be adapted using this simple adapter.
I've had one of these in my travel kit for 9 years now. It's essential, and I'll leave a link above to an example on Amazon, along with all the other products mentioned in this post. All product links in this blog post are Amazon Affiliate links. This means that when you purchase any item via these links, we receive a small commission on qualifying sales with no extra cost to you. Thank you for your support!
Lention USB-C to HDMI Adapter
A company named Lention contacted us recently and offered us a $50 credit for some of their products. They have a lot of USB-C products, so we ordered a couple of USB-C adapters for this video. Then we ordered some more for ourselves from Amazon directly.
The Lention product that I'm using a lot now is a simple one – A USB-C to HDMI adapter. Many USB-C ports support sending display signals out. This means that you can connect a monitor or a projector directly to the USB-C port. Some high-end monitors like my LG wide screen even have a USB-C input. So, I can directly connect that USB-C port with a USB-C to C cable and see the picture come out on the display. However, most monitors and projectors don't have a USB-C input. Instead, I'm likely to find a display port, HDMI, or an old school VGA connection. In any of those cases I'll need an adapter.
Fortunately, Lention has some nice inexpensive adapters like the USB-C to HDMI adapter that I've been using over the last couple of months. It's packaged well, it's excellent quality and it's worked very reliably. Again, I always keep one of these in my travel bag alongside of a USB-C to VGA adapter, just in case.
Be aware that not every USB-C port supports display out. It's handy to know that all USB-C ports on all current Surface devices do support display out. They output a display port signal over USB-C.
So, you can use these adapters on your Surface if it has a USB-C port. What's cool about USB-C is that I could also use these adapters with my Samsung Galaxy Note, my Surface Duo 2 and most other Android phones made in the last 5 years, because they all support USB-C. So, I can mirror my phone to an external TV, projector or display using this very same adapter. Oddly, even Macs and many iPads also have USB-C and would work with this adapter. Just not iPhone. Can you believe that they are still using that lightning connector? Yuck.
USB-C Memory Card Readers
Doing video work and a little bit of hobby photography, I deal with a lot of memory cards. My camera takes a full-size SD card. My GoPro uses a micro-SD card. So, I looked for some USB-C card readers. I found a couple on Amazon from Lention and Ugreen that would fit the bill.
This card reader can attach to a key ring or lanyard. It's all metal, compact and simply works well.
Lention has a USB-C memory card reader that supports both micro and full-size SD cards in a nice compact package. It's extremely easy to include in your travel kit or your camera bag.
I picked up one more adapter for this purpose from Ugreen. This one is quite handy because it has both a USB-A and a USB-C end which covers all bases. It supports both micro and full-size SD cards. I noticed that on the packaging these products do seem to refer to micro-SD as a TF card. TF stands for trans flash, which is another name for a micro-SD card.
Now before you jump on to Amazon and start ordering all these products, you may find it more helpful to find a sole product that can do all these things. Lention refer to this product as a multi-port adapter – and they have many of them. Some of these are listed below. Which one you should buy really depends on what you want to connect.
Lention Multiport USB-C Adapters
I got this small adapter that simply has two USB 2 ports, one USB 3 port and there's even a USB-C port. But this is where things get a little tricky. Because this port isn't really a USB-C port in the way that you might want it to be. It's not designed for plugging in devices or monitors. Rather, it's only there so that you can plug in a USB-C PD charger to pass through power to your device.
We've done several videos on USB-C PD charging with Surface. You can check one out here. The trouble is if you plug one of these docks or peripherals into that USB-C port on your Surface, you can't charge from it anymore. So, this port here on this multi-port adapter allows you to plug your charger in and it passes the charge back through to your device. Just don't expect to plug your memory stick, monitor, or webcam into this one, because it won't work. So, this adapter is good for just replacing those USB-A ports that you might be missing from your old surface.
Lention Large Multi-Port Adapter: four USB 3 ports, two HDMI ports, one USB-C port
So, I got a slightly bigger adapter from Lention, a more expensive one that has a lot more ports. This one has four USB 3 ports. USB 3 ports can be identified by their blue tongue. They put out more power and pass through more data than the old USB 2 standard. You can identify a USB 2 port by its black or white tongue. This model even has two HDMI ports, so you can plug in two external displays using this adapter. It's almost becoming a Dock rather than a multi-port adapter at this point. However, again, the USB-C port on this one is for passing through power only.
I got another version that is specifically designed to attach onto both the USB-C and USB-A ports of the Surface Pro 7. This one kind of acts like a side-dock that gives me a card reader and a HDMI connector. Clever, but it will only work with the Surface Pro 7. The USB-C port on this one does support USB-C peripherals, but not displays. Use the HDMI instead for a display if you're using this adapter.
Additional Lention USB-C Multi-Port Adapters
There are several other variations of the Lention multi-port adapter that include memory card readers, Ethernet, VGA, or different port combinations. Check them out here. Just remember to read the product details carefully to make sure that you're getting what you need. Apart from the Surface Pro 7 model, only one of the other multi-port adapters supports plugging in USB-C peripherals and passing them back through to your device. That's this one here.
As I mentioned, all the products that we looked at from Lention are well packaged. They're excellent quality with good cable strain relief and good materials. They are incredibly fair value too.
So, in general, these multi-port adapters are handy if you own a new Surface product that doesn't have any USB-A ports on board. If you're like me, you might want to keep on in your laptop bag or travel kit. But in general, I'd say that they don't replace a dedicated dock like the Surface Dock 2.
Additional Handy USB-C items
Two other things that will be handy to have in this new USB-C world are quality USB-C cables that support both charging and display output. I've also found it very handy to have a USB-C extension cable in my drawer at times.
And lastly, as you start buying newer USB-C devices – you might find a USB-C to USB-A adapter handy. That will allow you to plug many USB-C based devices back into an old school USB-A Port. This would work for things like webcams, cameras and memory card readers that don't require the higher data transfer speeds and power throughput that USB-C offers.
So, we'll leave Amazon affiliate links to all the products that we have used in this blog post. Any purchases that you make using those links go to supporting Tablet PC. In fact, we mostly use those commissions to buy products like the ones in this blog post, so that we can check them out for you. So, thanks for your support!
Learn More
If you haven't yet, subscribe to the OzTabletPC YouTube channel! We don't just review products; we share weekly tips, and we delve into the science behind technology. For example, if you haven't seen it yet you need to check out our Science behind the Surface Pen series. Until next time, bye for now.