In the last video we talked about using Microsoft Planner inside of teams. It's a brilliant way to manage your teams work, in a channel in a team in Teams. But if you look at everything that needs to be done across your whole team, you could easily be overwhelmed. You could apply a filter to your plan so that you just see your own personal tasks. But there is a better way to manage and prioritise the tasks that you've been assigned from a Microsoft planner board within teams, and that is with the Microsoft To-Do app.
The danger of Tasks and Outlook
Now before we get to the Microsoft To-Do app, I want to ask, have you ever used Microsoft Outlook tasks? Do you use Outlook tasks regularly? I'd say around 95% of people would say no to that question – they don't use outlook tasks. On further questioning around about 50% of people tell me that they do flag emails in outlook. Flagging an email in Outlook is actually a simple way of creating a task in Outlook. But that's beside the point, because even though tasks have existed in Outlook for a very long time, very few people manage their tasks there. Why is that?
It's because Microsoft Outlook is a really bad place to manage tasks. Outlook is the place that you go to get messages. The communications that you'll receive in Outlook are usually from people asking you to do things. That represents other peoples priorities.
Now of course we need to respond to other peoples needs. But if you simply spend all of your time responding to emails, and completing tasks that others ask you to do by email, you'll have no time left to address your priorities. Being completely responsive to other people's priorities leaves you with no control over how you prioritise and categorise the things that need to be done. If you don't have a plan, you'll become part of someone else's.
The end result is that you complete each day and each week feeling like you've accomplished nothing. There's no sense of progress that comes from responding to emails in your inbox, because it simply never ends.
The danger of Tasks and Teams
Why are we talking about Outlook in a Teams video? Two reasons. Firstly Microsoft To-do is actually built on the data storage of Outlook known as Microsoft Exchange. In other words a to-do List in Microsoft To-Do is a task list in Microsoft Outlook. You'll see what I mean as we get into this video.
And secondly you can add Microsoft To-Do as an app inside of Microsoft Teams. Click on the 3 dots in the left hand navigation bar of Teams and you should see Tasks by Planner and To-Do. If you don't see it there you can search for it. Right click on it and pin it to the navigation bar.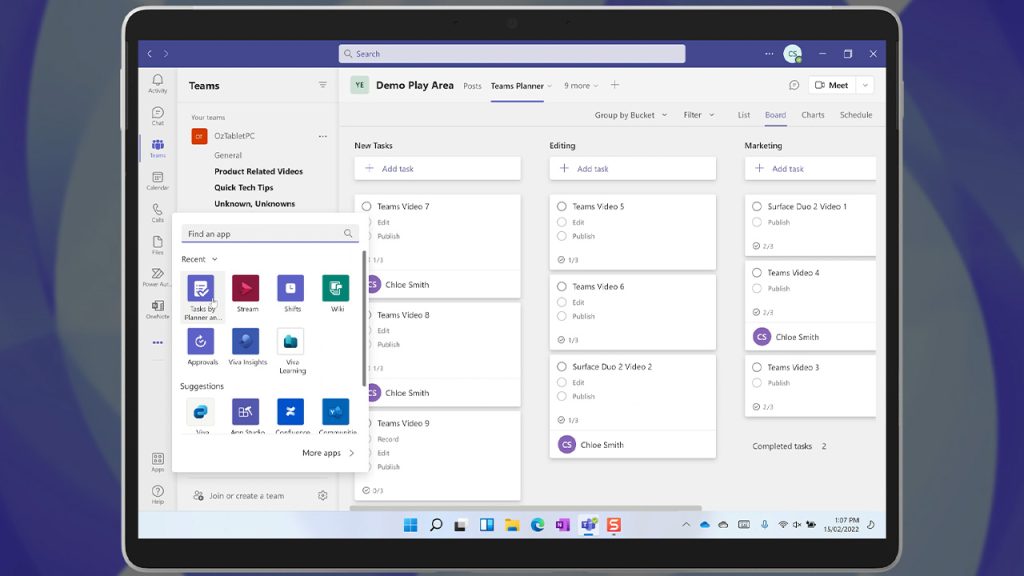 So there is your personal task list with Microsoft To-Do right there in Teams. And now that you've done that, I'm going to suggest that it's a bad idea. Because just like Outlook, Microsoft Teams is a tool of communication. And the communications that you'll receive here are also filled with other people asking you to do things. So it's important to have access to your to-do list inside of Microsoft Teams and Microsoft Outlook , but both of those apps are bad places to plan your day and your week.
Download Microsoft To-Do
So instead of planning to plan your day in Outlook or Teams, I'd highly recommend that you download the Microsoft To-Do app on your PC and on your mobile devices. You'll find the Microsoft To-Do app in the Microsoft Store, the Apple App store or the Play Store on Android. For all of those platforms the Microsoft To-Do app allows you to sign in to both a personal and a work account. That allows you to create tasks, task lists and even share tasks lists with others in both your home and work domains.
To-Do has a brilliant feature that allows you to pull tasks together from your outlook task list, your flagged emails, and the planner boards that you share with your teams – it's called "My Day". This place brings all of your tasks together in one place that's dedicated to helping you progress through the things that you need to do. No other distractions, no noise – just you and your to-do list.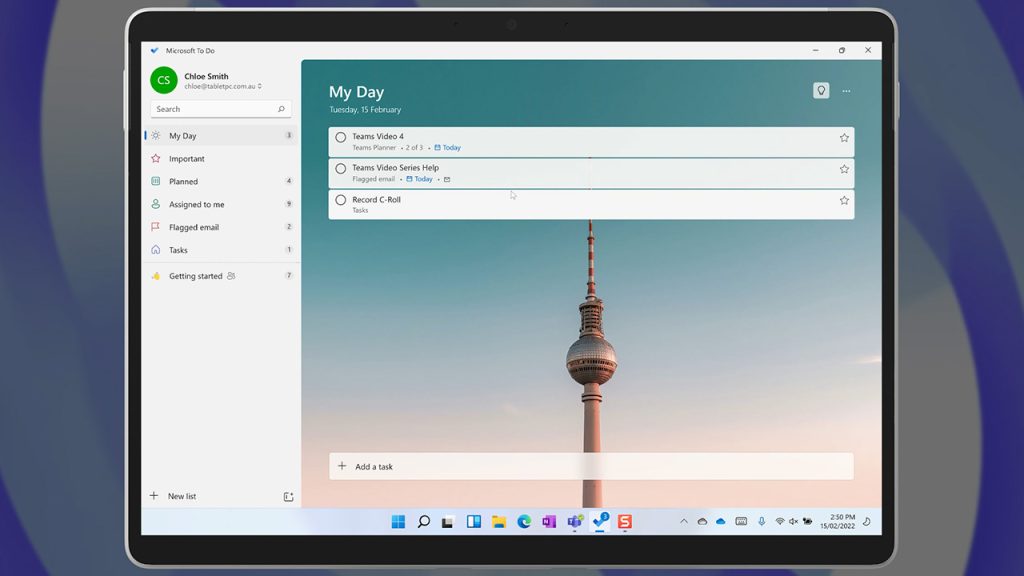 And if you can't download the Microsoft To-Do app, you can simply go to the website https://todo.microsoft.com/. Consider making it your homepage, so that every time you open your web browser you're focused on your task list.
How to Manage your Tasks With To-Do
There are many ways to add tasks to Microsoft To-Do. You can add a new task in the app or To-Do website. By the way, that task will show up instantly in your Outlook task list too.
In Outlook on the desktop, you could drag an email onto your task list, save it and it would show up in your Microsoft To-Do app. On Outlook mobile apps you could open an email, click on the three dots, and create a task in Microsoft To-Do. And in Teams you could right click on a chat message, or a conversation on a channel, select the three dots, and create a task from a communication right there in Teams. You can add more detail and change the content of the task in the Microsoft To-Do app. You can embed links, comments, and files in the app, even change the due dates and track your progress.
Take it Further With Power Automate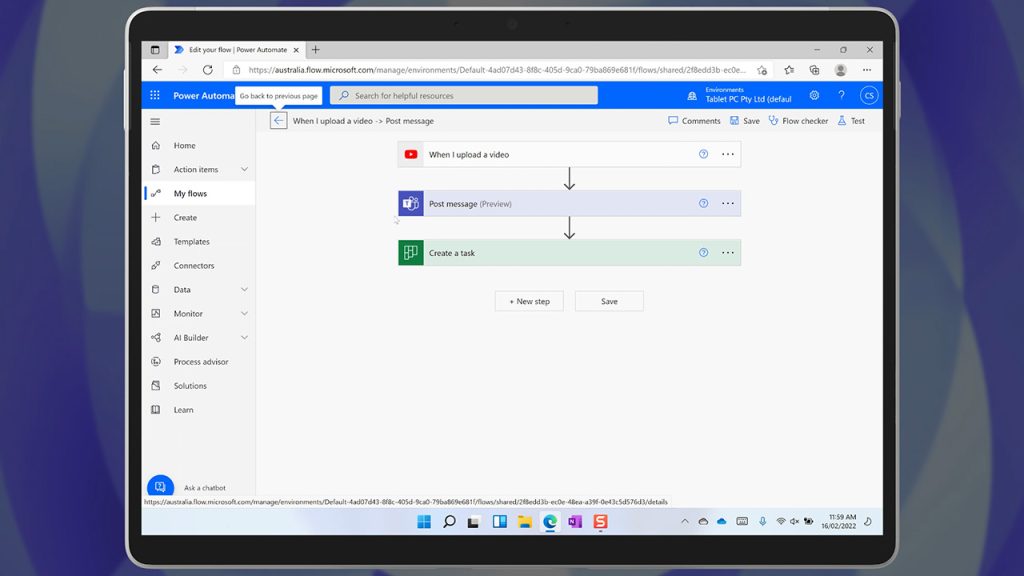 And as we've been going through this series, no doubt you're getting the idea that Microsoft Teams is much more then just a communications tool. It is a platform that you can build your own solutions on top of. One simple way that you can extend the functionality of Microsoft Teams is to use another Office 365 tool called Power Automate. For example, I have a simple flow set up in Power Automate that automatically assigns a new task to a planner board for members of our team when a new video drops here on YouTube. That task reminds us to go onto LinkedIn and post the video to our feed. And that task shows up in the To-Do app on all of our devices – and it's completely automated.
Spend the Time to Save you Time
So Microsoft Planner is a great place to plan with your team in Teams. And Microsoft To-Do is the best place to turn those plans into actions at a personal level. Personal planning and productivity is something that we assume is common knowledge within our organisations. It is not. So use this video, and take the time to discuss this tip with your team. It's only through constant discussion, evaluation, coaching, and training that you can improve your digital skills and transform the way you work. Tell us what planning tools you use to manage your tasks in Teams in the comments below.
In our next video we'll look at how you can work together with your team on files in Teams. So make sure that you've subscribed to our YouTube channel and ring the bell to get notified about our upcoming videos.