Motion Computing claim that their new J3400 has the best outdoor display on the market. That's a big claim to make, so we had to check it out for ourselves.
Verdict: J3400 has the best outdoor display on the market.
How? Motion have adopted a technology called Hydis AFFS+ for the J3400. According to Motion, that creates a reflective and a transflective area in the display. So when you're outside with the J3400, the sun is actually working for you, and not against!
Of course, the colour on the display do wash out when you're in direct sun, but while other displays struggle, the J3400's Ultraview Anywhere display is still extremely viewable.
What we found is that you do not have to have the display at full brightness to see the screen outside, and that allows you to significantly extend your operational battery life.
Example 1: J3400 compared to Toshiba M700 with anti-glare coating in direct sunlight.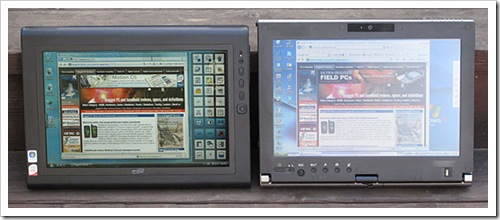 Example 2: Compared to a gateway notebook PC:
These photos come from the comprehensive Rugged PC Review article. Here's what they had to say about the J3400's display:
"The J3400 display's outdoor performance is simply superb. The perfect viewing angle from all directions means you never have to tilt and angle the tablet to see what's on the screen. The display itself absolutely excels in eliminating unwanted reflection or diffusion. Where other displays appear matte or milky or are overcome with reflections, the J3400's stays perfectly readable. In head-on, direct sunlight the display is still readable, here thanks to the inner reflectance of the Hydis LCD."

Conrad H. Blickenstorfer, Editor-in-Chief
RuggedPCReview – www.ruggedpcreview.com
Out tip: This is the biggest development in field computing since the Tablet PC came to market.