Capitaleyes Business Technologies Helps Customers "Go Green" while Streamlining Business Processes
New Software Launch Provides Tablet PC Powered 'Green' Mobility Solution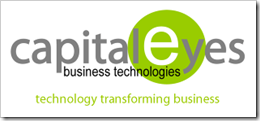 CANBERRA, ACT – April 22, 2009 – Capitaleyes Business Technologies, a leading provider of document driven process improvement solutions, in conjunction with its strategic partner, www.TabletPC.com.au has announced the release of a low cost, high value software suite to the Australian market in support of Earth Day 2009.
The solution suite is centred on bridging the gap between the collection of vital information on paper forms and how and where that information is subsequently stored and then made available throughout the organisation. The use of a true Digital Ink e‐Forms technology, together with the handwriting recognition capabilities of a new generation Tablet PC or UMPC, provides a capability that not only does away with the need for additional data entry but also helps minimise a company's environmental footprint.
In migrating from traditional paper to electronic business processes, organisations can generate numerous benefits and significant return on investment through more efficient digital workflows and reduced costs. The adoption of electronic processes to exchange information both internally and externally decreases and often eliminates paper, reducing the impact organisations have on the environment by conserving land and water resources as well as decreasing fuel consumption and greenhouse gas emissions.
For example, an employee filling out 20 paper forms each month (10 pages each) during site visits could save the following each year by converting just half of these to electronic transactions:
Paper

1 kilograms of paper saved

Water
70 litres of wastewater prevented from discharging into lakes, streams and rivers
Fuel
18.5 litres of fuel saved by not mailing your bills, statements, and payments
Greenhouse Gases
200 kilograms of greenhouse gases avoided
This amount of greenhouse gas is the equivalent of:

700 kilometres not driven in your car

5 trees planted (and grown for 10 years)

10 square metres of forest preserved from deforestation
"Enabling streamlined business process through migration from paper to electronic is a central component of the value we bring and is a common theme across our entire product and service portfolio," said Kevin Burdette, Principal of Capitaleyes Business Technologies. "By deploying our solutions, organisations can leverage mature technology to drive environmentally‐friendly business practices, lower their carbon footprint and achieve their environmental and business goals."
About Capitaleyes Business Technologies
CAPITALEYES BUSINESS TECHNOLOGIES provides software and consulting services to improve the outcomes of an organisation's business process improvement strategies through the use of mature, innovative information exchange technologies. Founded in 2008, CAPITALEYES BUSINESS TECHNOLOGIES is headquartered in Canberra with partners in Melbourne, Sydney, Brisbane and the USA. For more information, please visit: www.capitaleyesbt.com.au.