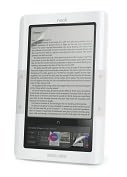 On the 20th of October Barnes and Noble introduced the "nook" eBook reader to the US market. No doubt this move was designed to compete with the success of the Amazon Kindle which until now has not been available to Australian customers.
Australian readers are probably thinking, "great, another e-reader that won't be available to us."
But dedicated e-book reading devices aren't for everyone (I personally don't want another device to add to my collection 10+ Tablet PCs!), so the good news is that Barnes and Noble trumped Amazon by also releasing their e-Reader software for PC as well as MAC and iPhone. Only days later Amazon matched them by announcing Kindle reader software for PC and MAC too.
So if you enjoy e-reading, you now have some new alternatives for reading eBooks on your Tablet PC. Of course, there eBooks have been around for a long time now, and there are many places to buy them online for PC. We list a few below, but feel free to add your suggestions in comments.
I guess the question is, what is the best Tablet PC to start e-Book reading on? Here is our list of recommended Tablet PCs for eBook Reading:
Motion F5, Motion C5 or Motion J3400 with Hydis AFFS+ – These are the top of the line Tablets with the best screen technology available by a country mile. You simply will not  get a better eBook reading experience on a PC (Best viewing angle, contrast, outdoor visibility and power consumption). So if you can afford it, start here. If you can't, read on…
Viliv X70 EX Premium Air – A fantastic small and lightweight slate device with inbuilt 3G. Weighs only 660 grams and has a 7" colour screen that is not much bigger than an average paperback. Perfect for eBook reading.
Gigabyte M1028 – Reading eBooks on a netbook is not really a comfortable experience. Enter the Gigabyte M1028 – a touch screen netbook with a 10" convertible (swivel) screen. It performs fantastically as a netbook, but swivel the screen around and you have a colour eBook reader. Price is great too at less than AU$1000.
We'll have to wait and see what Amazon come out with when they release their Kindle app next month, but in the meantime you can already get your eBooks on Tablet PC from a variety of sources:
Here's a snippet from the introductory post from the Barns and Noble "Unbound" blog:
There's no denying it: eBooks are revolutionizing the way we read—and fast. Literature is moving from our shelves to our screens, and with it comes easy, instant access to eBooks, anytime, anywhere.

Computers and handheld devices are swiftly becoming the mediums of choice for many bibliophiles who no longer find it feasible to store and carry all of their physical books. And as a new generation turns to computer screens and PDAs for their information, digital learning is playing an increasingly crucial role in our schools.