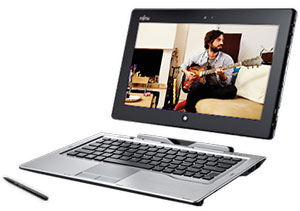 Since consumer tablets exploded onto the market 3 years ago, millions of the devices have found their way into enterprises.
Many of those devices have made it to work through Bring You Own Device (BYOD) programs where employees actually provide their own hardware for work. How many of these employees are happy to submit their own device to restrictive corporate security regimes is anyone guess.
Other companies have rolled out tablet devices such as the Apple iPad to employees for tasks like email, web browsing and basic content consumption. We've also seen devices like the iPad enable amazing advances in areas like single app roles like point of sale (Square for example).
But where staff need to access more than just the basics you'll find that the iPad sits next to a laptop on the desktop. For the vast majority tablets are not capable of handling day to day tasks such as document creation, long form communication, running the numbers, presentations and accessing the network. For all but a few, a tablet has meant an extra device.
So what makes a Windows 8 tablet a true enterprise ready tablet?
In the enterprise, made up marketing gimmicks like pixels per inch are irrelevant. Up front cost of devices is also not the major issue. Crazy low, low prices have allowed tablets to become an executive standard, but the current crop of consumer tablets inherently fall short in the enterprise in a number of ways.
Since tablets are so desirable as an executive status symbol, CIOs have had to wear the problems that consumer tablets have created. That is, until now thanks to Windows 8.
"On tablets, 38% of iPad-using organizations are considering migrating to Windows 8 tablets, while 45% of Android-tablet-using organizations are considering migrating to Windows 8." – ZDnet – In the enterprise windows 8 tablets may zoom past PCs
Until now, none of the Tablets in the public consciousness have even gone half way to matching the enterprise readiness of Windows 8 tablets, such as:
Application support
Windows 8 offers support for the new wave of Windows less touch friendly apps under the Modern UI, but the real benefit to enterprise is in the Windows desktop.
Deploy your existing business applications now – Whilst many business have disappeared down the rabbit hole of rewriting business applications into an app, you don't have to with Windows 8.The desktop capabilities of a Windows 8 tablets will be the single biggest productivity bonus for tablet users in the enterprise.

Windows 8 tablet users do not need to fiddle around trying to gain network access to remote into the PC back in the office.

The Windows 8 tablet means that your office goes with you and so do your applications – touch friendly or not. There's no need to delay access to critical information on Windows 8 tablets.

There's still no substitute for Office – Of course Google's cloud alternatives are fully accessible from your Windows 8 tablet, but as many have found there is still no substitute of Word, Excel, PowerPoint and Outlook.They all run natively on your Windows 8 tablet with support for touch, pen, macros, formulas and many advanced features that you will never find on consumer tablet alternatives.
Whilst the Windows 8 app store shelves are not yet stacked up as high as the Android and iOS ones, the real benefit of Windows 8 is the ability to deploy powerful and critical existing desktop applications today.
Security
Device security is incredibly important to the enterprise. The risks that mobile devices have are easy to perceive:
Access to sensitive corporate data
Loss of intellectual property
Malicious network compromises
Down time.
Governing and securing mobile devices has been troublesome with 3rd party solutions required for devices that were designed with Pixels Per Inch in mind, and not corporate IT management.
On the other hand Windows 8 offers a selection of tablets that fit in with existing IT management infrastructure.
TPM and Bitlocker – Windows 8 continues on with Windows 7's enterprise level disk encryption and security key capabilities thanks to the hardware level TPM chip embedded in enterprise Windows 8 tablets.
Active Directory Integration – Windows 8 tablets support long established security standards, network access and application management natively out of the box.
True multi-user support – Even as a stand alone device Windows 8 supports a secure multi-user environment with security roles and permissions available to manage.
Authentication devices – Fingerprint, Smart Card, RFID login options that are integrated into many Windows 8 tablets allow employees to login quickly and securely. Enterprise can enforce complex password requirements without causing constant login frustration.
Secure VPN Connectivity – Windows 8 tablets can leverage existing VPN security such as Cisco Anyconnect and many others.
Only Windows 8 tablets offer these essential enterprise security features.
Whilst competitors attempt to cast doubt on Windows security via subterfuge, the reality is that Windows is a secure multi-user environment when properly managed. And that's a job made easy with the simple tools in place in nearly every IT department in the world today.
Device management and remote support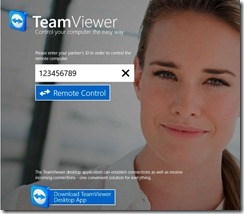 For many years now companies have been managing mass deployments of Windows desktop and laptop pc's. The tools are very well established, reliable and in many cases free.
PXE boot and image deployment – Updating a device to a baseline image including your custom applications, drivers and security updates is incredibly easy with a Windows 8 tablet. It can be quickly and easily done via the network or even a USB memory stick.
Security updates – Whilst Windows was once maligned for its constant patches, Microsoft now leads the market with its responsiveness to bugs, security flaws and performance improvements. The subsequent patches are easy for enterprise IT to test and deploy.Consumer tablets on the other hand often require massive downloads per device often with game changing and unwanted features bundled in (Apple Maps anyone?)
Remote support – One of the most useful tools available to IT is remote support when a user runs into trouble. These tools are rare, complicated and expensive on mobile devices. Windows 8 tablets can leverage the cheap and simple solutions available on Windows like TeamViewer, LogMeIn, VNC, Copliot and even the built in windows remote desktop capability.
The beauty of the windows 8 tablet is that your IT people already have the tools and know how to manage these tablets.
Battery / Power management
Whilst battery life is held up as the holy grail of tablet success, battery management actually matters far more than battery life. After all, when the battery is flat, 10 hours of battery life means nothing if you can't charge it quickly or replace it.
Fast charging – Tablets like the iPad can take up to 6 hours to charge. The Samsung Series 7 and the Motion F5t take only 2 hours. So a brief lunch stop over to the car charger or power point can keep you going.
Removable batteries – Apple fostered an unfortunate trend in mobile devices with non-removable batteries. Many manufacturers have followed suit, but you can still find Windows 8 tablets with removable batteries.Lithium Ion / Lithium Polymer batteries are also prone to life span limitation, so having a devices with removable batteries are particularly serviceable.
Hot swap – Certain Windows 8 tablets like the Motion F5t and J3500 allow continuous operation with hot swappable batteries. Coupled with fast charging, this effectively enables 24×7 operation on two batteries.
Business critical applications cannot afford to be halted because someone forgot to plug the tablet in last night. Thankfully there are enterprise ready Windows 8 tablets like the Motion F5t and J3500 than can easily overcome that problem.
Enterprise support
There's no need to book in a slot with a genius to get your Windows 8 tablet repaired. Windows 8 tablet vendors and resellers like Tablet PC know how to deliver top notch service to enterprise customers.
Warranty Options – On site, courier pick up and extended warranty options are common across Windows 8 tablet vendors.
Training – Training is essential to enterprise tablet deployments and with the changes to the Windows 8 interface this will become even more important with Windows 8 tablets. Specialist companies like Tablet PC Solutions deliver this type of training onsite to enterprise customers all over Australia. It is an essential component of a successful tablet deployment.
Expertise  – Lastly, Windows 8 tablets are not one-size-fits-all. Enterprises often call on the experience and expertise of companies like ours to evaluate, deploy and manage tablets that are suited to the needs of the job.Having devices available to evaluate in conjunction with training and expertise makes choosing a tablet much easier.
Since Windows 8 tablets range from executive tablets like the Samsung ATIV Smart PC Pro and the Fujitsu Stylistic Q702 to the rugged Motion F5t you can find a tablet that is perfectly suited to an individual project. Having support and expertise available is what makes it all work.
Windows 8 Tablet Adoption
The following quote from the Wall Street Journal referenced in the ZDnet article earlier sums up what many IT departments have found when evaluating Windows 8 tablets:
"I'm hearing a lot less struggle with managing the Windows 8 devices than I have about iPads [from PCL's IT staff]," Ranger told CIO Journal.

Technically, a lot of the PCL field work could be completed with iPads. But Ranger said he found the iPad limited because it isn't compatible with Microsoft productivity software, or with apps for cost estimates, project management, or computer-assisted drawing.

Ranger said he and his IT staff would have to do a lot of custom coding and configuration, which would take time that could be better spent doing other tasks to support the business. He also said accessing PCL's intranet from an iPad was painful because he had to go through VPN; with the Windows 8 tablet, which uses Microsoft's remote log-in software, he automatically connected to the corporate network.

The iPad also didn't play well with custom applications PCL wrote using Microsoft's .NET programming language."
Consumer tablets will continue to have a place in the enterprise thanks to their cheap prices and cachet. But for anything more than the most casual computing Windows 8 tablets will give enterprises a tool that solves a lot of problems. It is a tool that has been missing until now.