Limited stock of the brand new 256Gb version of the Fujitsu Stylistic Q702 Windows 8 tablet comes into stock on Monday.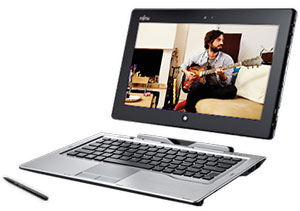 The Fujitsu Q702 now ships with Windows 8 Pro installed, but unlike many other Windows 8 tablets the Q702 does fully support Windows 7 too.
Here's a couple of things that we love about the Stylistic Q702:
Battery in the keyboard keeps you going for up to 10 hours +
More connections than any other slate Windows 8 tablet – USB3, 3xUSB2, VGA, Full Sized HDMI and Ethernet
New hardy bump case option that still allows the keyboard to interface and has a spot for the pen. Pictures below.
Orders will be shipping from our Melbourne warehouse next week.