If you have a Tablet PC with a Wacom Active Digitizer built in then you'll probably be interested in this accessory. It's called Wacom Bamboo Stylus Feel.
It is not to be confused with the iPad style capacitive styli that Wacom also make (Bamboo Stylus Solo, Bamboo Stylus Duo, Bamboo Stylus pocket).
The Wacom Bamboo Stylus Feel will work with many of the new Windows 8 tablets as well as most of the old Windows 7 Tablet PCs (a short list of recent compatible tablets below).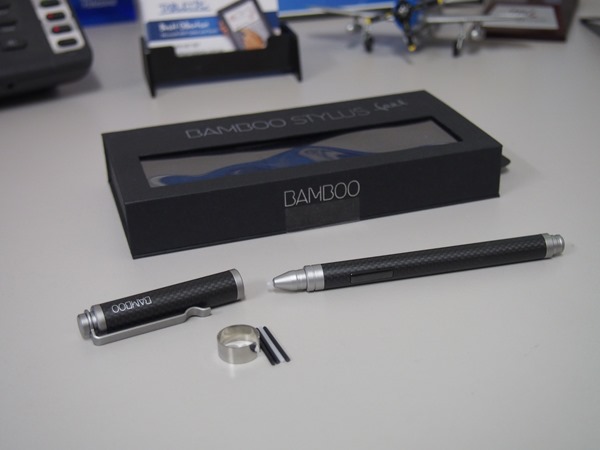 This is not just a capacitive stylus, this is the real deal. The Bamboo Stylus Feel is a Wacom Active Digitizer Pen and it will only work with a tablet that has Wacom Active Digitizer hardware built in.
So that's a definite no for iPad.
Here is a list of some of the tablets that the Bamboo Stylus Feel will work with:
Microsoft Surface Pro
Fujitsu: T900, T901, T902, T730, T731, T732
Motion J3400,J3500, J3600, F5, F5v, F5t, C5, C5v, C5t
Samsung Galaxy Note 10.1, Galaxy Note 8.0, Galaxy Note Phone 1 & 2, Series 7 Slate, ATIV Smart PC Pro 700T, ATIV Smart PC 500T
Lenovo ThinkPad Tablet 2, Helix, X61T, X200T, X220T, X230T
HP Elitebook 2710P, Elitebook 2730P, Elitebook 2760P
Panasonic Toughbook CF-19, ToughPad G1, ToughPad A1
Asus EP121, B121
Dell Latitude 10
Wacom Interactive Pen Displays (not Cintiq, Bamboo or Intuos)
There are many more Wacom tablets than this brief list, so don't be afraid to call or email to ask if your tablet is compatible before you buy.
What's good about the Wacom Bamboo Stylus Feel?
When looked at side by side with the tiny Wacom pens that come with tablets like the Galaxy Notes and the Lenovo ThinkPad Tablet 2 it's easy to see the key feature of the Stylus Feel. Size.
The Wacom pen that is housed in the ThinkPad is particularly thin and feels flimsy as a result. Bot the Samsung S-Pens and the ThinkPad pens are also too short for comfortable note taking.
The Stylus feel on the other hand is solid and long. It makes the other two pens feel like Pizza Hut pencils (does anyone remember those?).
Also, when compared to some of the more traditionally sized Wacom pens below you can see that the Stylus Feel is much more… well, stylish.
The Bamboo Stylus Feel has one button on the side (right click by default on all Windows Tablets) and a pocket clip on the lid.
In the box there is a set of tips and a tip removal tool. There are two hard white tips and three soft black tips. Personally I find the soft tips too resistive and slow on the screen for my liking. They also wear out very quickly. On the other hand the hard tips virtually never wear out.
The Stylus Feel comes in Black, White and Carbon. Carbon model is shown in our pictures above.
Wacom Bamboo Stylus Feel is available through our website here: