The Microsoft Wedge Keyboard was a big hit with new Microsoft Surface Pro owners at the MVP summit in Redmond this year.
Whilst the clip on Microsoft Touch Cover keyboard is the logical choice for a Surface Tablet, you'll see from the pictures below why many chose this keyboard instead of the bespoke one.
It's a Bluetooth Keyboard and it runs on 2 AAA batteries that are very easy to fit into the elevated rest at the back of the keyboard.
The firm rubberised cover removes to reveal a traditional keyboard with full sized, light touch keys. There's a set of slightly shorter media keys across the top row that double as function keys.
It's very comfortable to type on despite it's small, portable size.
But here's the fun part. The cover is really the key to this keyboard. Applying or removing the cover turns the keyboard on and off. Its cleverness though is in its mechanics not its electronics.
As you can see it folds in half to create a portable tablet stand!
Now this tablet stand can be set to any angle for any tablet!
This overcomes the restrictions of other arrangements like:
I have personally been using this keyboard for nearly a year when I travel. It is an absolute saviour in the hotel room for blazing out emails.
This keyboard will work with practically any tablet that has Bluetooth (I can't think of one that doesn't).
It is shown in these pictures with the Lenovo ThinkPad Tablet 2, but it is also an accessory that I would recommend for use with:
Samsung Galaxy Note 10.1
HP ElitePad 900
Apple iPad
It is specifically compatible with Windows 8 tablets too.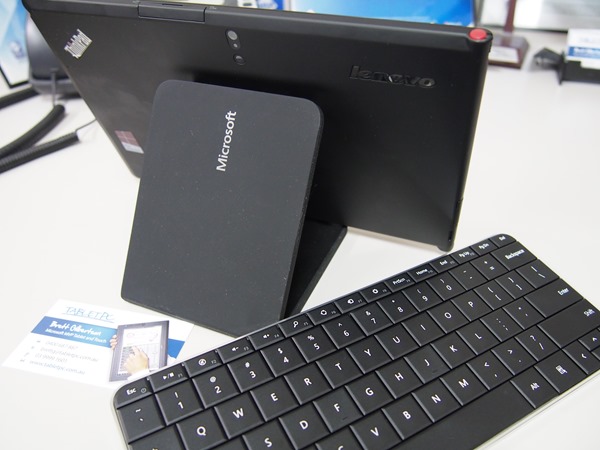 It's in stock and available for immediate dispatch.