The Fujitsu Stylistic Q572 would not win a Windows 8 Tablet beauty pageant. That is par for the course with Fujitsu. Since they have been doing tablets for over 20 years they uniquely value function over form.
The Stylistic Q572 looks like the little brother of the Stylistic Q702. The button layouts and controls are identical. The finish is the same.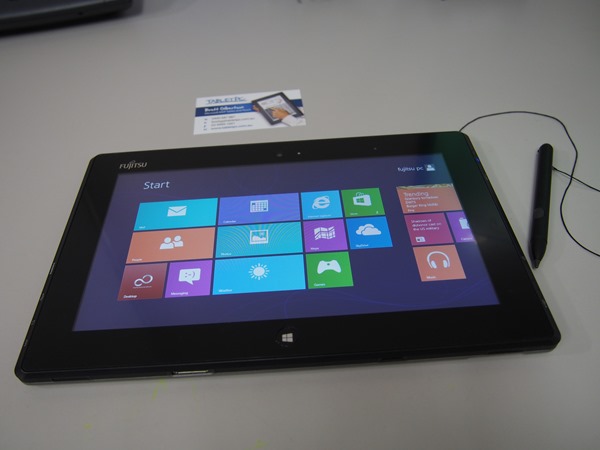 There are some important reasons to consider the Q572 for your corporate Windows 8 tablet deployment where function is more likely to be important. Firstly, the Q572 can be deployed with Windows 8 Pro or Windows 7 Professional.
The Stylistic Q572 has a bright 10.1" 1366 x 768 screen with a matte finish. While most manufacturers of tablets this size take the safe option and go with the Intel Atom Z2670 processor, Fujitsu chose the Z-60 from AMD for the Q572.
The Z-60 is no Core i7 of course, but in a number of ways it is far superior to the Atom equivalent. A couple of points of note about the Z-60:
It runs 32 or 64bit – The Atom is a strictly 32 bit affair
Graphics performance in 2D and 3D leaves the Atom for dead
Battery life is about on par.
What I find disappointing with Atom Z2670 based tablets like the Lenovo ThinkPad Tablet 2 and the HP ElitePad 900 is that simple 3D animations are slow, blocky and horrible. With the Q572 3D animations are rendered smoothly. Rendering a complex CAD drawing in a PDF file is also much faster on the Q572 thanks to its far superior graphics performance.
Fujitsu's 20 year tablet history shows though with 2 high and security features that can help IT departments to deploy high security tablets without burdening end users.
There's a Smart Card reader:
And a fingerprint reader.
Both allow users to maintain a complete password (and It departments to enforce it) while allowing them to bypass the drudgery of having to type it in 30 times a day (they can still use their password if they prefer).
The Smart Card reader will no doubt generate interest from single sign on deployments like those used in hospitals.
  There's an array of easy to access full sized ports. 2x USB2, HDMI, Audio, SD Card Reader.
There is a docking cradle connector on the left side. The optional cradle adds charging capabilities, 3 USB 2 ports and Ethernet.
Unlike any other 10" tablet the battery on the Q572 is removable and replaceable. It is expected to last around 6 hours.
One last an important thing that you can see in this close up. The Q572 is field serviceable like the Q702. Most tablets now are glued, not screwed together. That means that a technician cannot open the tablet to service in the field. In other words if something goes wrong, you're going to be without the Tablet.
Thanks to Fujitsu valuing function over form, the Q572 can be serviced on site and that significantly separates it from any other lightweight 10" tablet on the market.