There are so many hybrid Windows 8 tablets emerging that it's nice to see a slider tablet for a change. The Sony Vaio Duo II is a high end Ultrabook / Tablet slider with a 3rd Generation Intel Core i7 processor. It's been around for a while now, and it's future replacement has just been announced. However, we thought that we'd share some pictures with you anyway.
The Vaio Duo II is designed to be your go anywhere, do anything mobile office. If you are a person who is never far from a keyboard then the Vaio Duo II might be a good fit.
Sony Vaio Duo II bucks the overwhelming trend towards hybrid breakaway tablets, but if anyone can make the slider concept work, it's Sony. Judging by the feedback we receive from end users of the Vaio Duo II it is working.
Vaio Duo II ships with Windows 8 Pro. The main hardware lives in the keyboard base where there are a host of connection points. There are 2 USB3 ports, a full sized HDMI, VGA and Ethernet. There's also an SD Card Reader.
You can quickly see that the position of the screen on the the Sony Vaio Duo II is perfect in laptop mode. The screen is counterbalanced so that the tablet will sit well on un-even surfaces like your knees. Some of the current hybrids just don't sit well on your lap due to the distribution of weight to the back of the keyboard.
The display positioning also makes the footprint of the tablet much smaller when in laptop mode. Perfect for in-flight use on an economy tray table.
In tablet mode, the Sony Vaio Duo II is surprisingly thin. Because of the all-in one slider design your card reader, VGA port, USB ports and Ethernet port are always with you.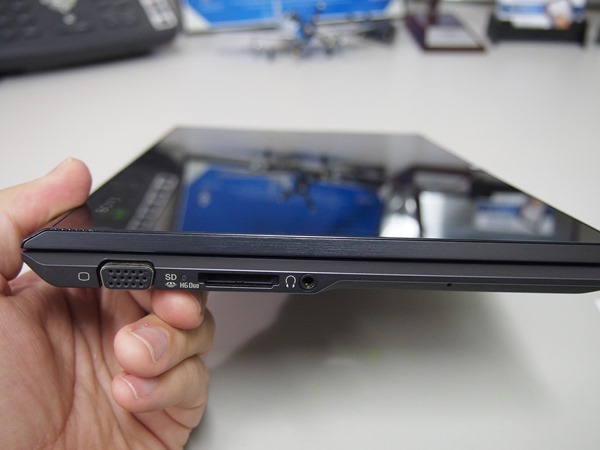 The hinge mechanism is designed to the typical high standards of Japanese manufacturers. Sony quality and engineering shines through.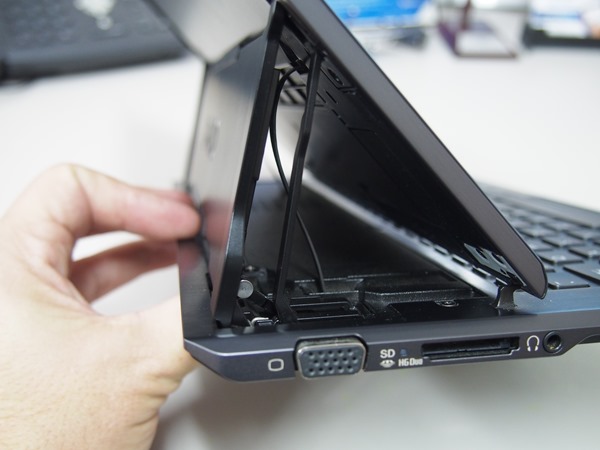 The full sized back lit keyboard can be at your disposal in an instant. A touch scroll based pointing device is mounted in the keyboard to save space.
These new pointing devices might take a little bit of getting used to, but I think that the would work much better than a track pad for high use. Ultimately, if you're in laptop mode a Bluetooth wireless mouse would be an essential accessory anyway.
In addition to the keyboard and mouse, you have a uniquely stylish version of the N-Trig Pen. As a fourth generation N-Tirg pen, this one has the pointy, quieter tip and performs close to the standard of the Wacom Pen. It also has two buttons on it, and a right click function and eraser are assigned by default.
For the occasionally mobile note taker, the Sony Vaio Duo II is a prefect all in one Windows 8 tablet and Ultrabook. We tested it with Microsoft OneNote 2013 and found the results to be more than satisfactory thanks to the new pen design and the high performance hardware.
Battery life is around 4-5 hours thanks to the high performance 3rd generation Intel Core i5 or i7 processor. This battery life should be sufficient for the corridor warriors that would value this form factor and device.