Welcome to Haswell! For the non-geeks out there Haswell is the fourth generation of Intel's high performance "Core" laptop and Ultrabook chips that you might know as Intel Core i3, Intel Core i5 or Intel Core i7. And you'll find one of the latter two in this new Sony Vaio Duo 13, the first Haswell Windows 8 Tablet to grace our desks.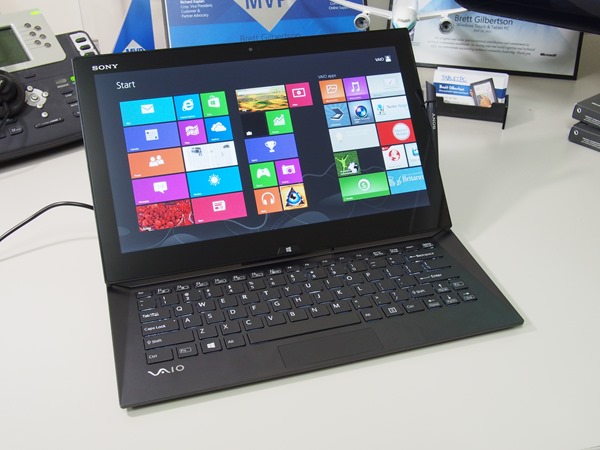 What's the big deal about Haswell? Well the boffins at Intel have been slaving away in their underground secret labs to make their powerful Core series chips much faster and much better on batteries.
Although this new Sony Vaio Duo 13 is no heavier than its predecessor (Sony Vaio Duo II) it more than doubles it's battery life! In fact you can expect battery life of up to 9 hours from this Windows 8 Tablet Hybrid.
When you flatten the Sony Vaio Duo 13 down into tablet mode you are confronted by 13.3 inches of beautiful Full HD "Triluminos" glass. The Triluminos feature is purported to give better detail and colour reproduction. All we know is that it looks good.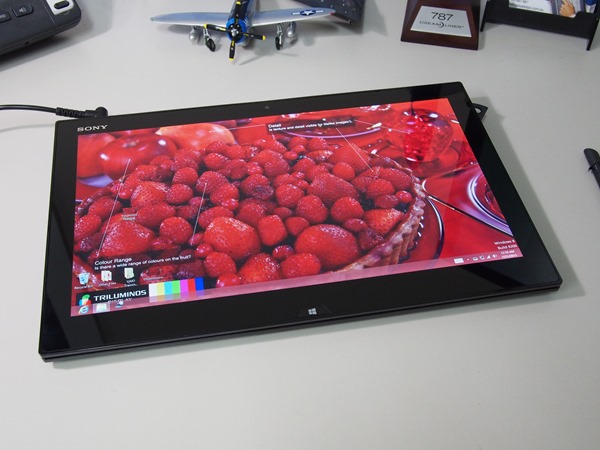 It's running Windows 8 Pro of course, and the Intel Core i7 Version comes with 8Gb of RAM, 256Gb SSD and 4G that works right here in Australia!
The slider mechanism feels very sturdy, as sturdy as any laptop hinge.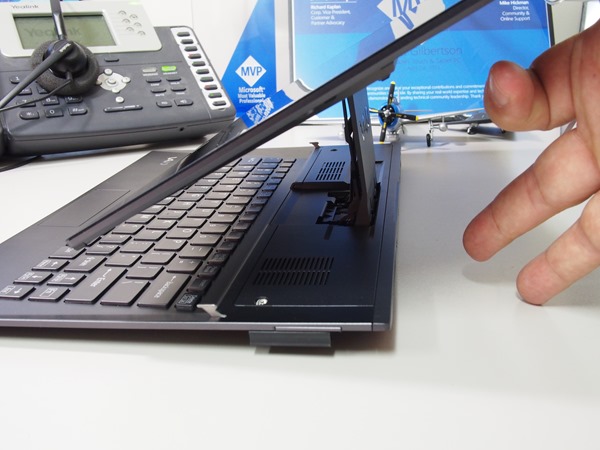 There's two fast USB 3 ports on the back as well as a full sized HDMI connector. A multi memory card reader accepts both Sony's memory stick formats and the more commonly found SD Cards.
The volume buttons are strangely placed on the underside of the tablet, no doubt allowing the edges to be as razor thin as they are. Here you can see the 8 megapixel rear camera. There's also a Full HD front webcam.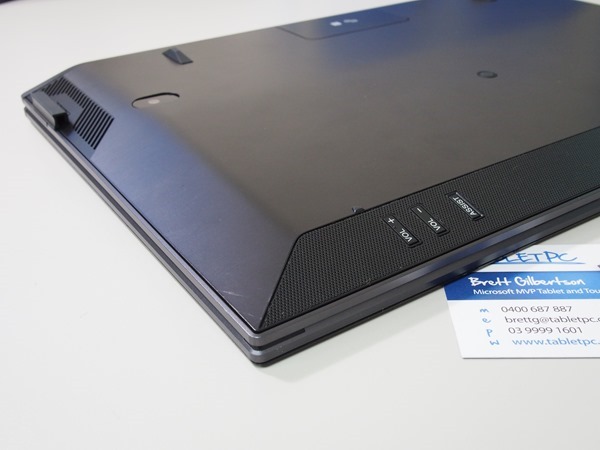 Sony have gone with the N-Trig pen as you can see below. The pen holder clip was broken when we received this Vaio Duo 13, but despite that it is the best N-Trig pen that we've seen yet. The Pen tip feel is finally catching up to Wacom and this Sony Pen felt great to write with.
Unfortunately, there is no place for the N-Trig pen in the tablet, but Sony have built in a novelty quill holder for us instead.
The Sony Vaio Duo 13 would be an incredible asset in any meeting room thanks to that 13.3" slab of glass and this new N-Trig pen implementation. Unlike previous N-Trig pens, this one did not miss a single dotted i or crossed t for us.
The Sony Vaio Duo 13 is now shipping in two variations. Contact us for a demonstration or for availability.