For a little over a year now we've been supplying Android Tablets to our corporate clients. These have been deployed for simple tasks like data collection and web based applications.
Of course Android doesn't offer the flexibility of a Windows tablet. For example running an excel spread sheet on any consumer tablet is not nearly a match for running it in native Excel. The browsing experience is also limited by the lack of flash support as well as poor performance when compared to high end windows tablets.
However, if your data collection job is simple and a suitable app is available then Android Tablets can offers these benefits:
Cheaper
Smaller
Lighter
Better battery life.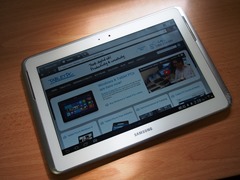 I have personally owned both the Asus Nexus 7 and a Samsung Galaxy Note 10.1 tablet. They are great entertainment platforms.
As you can see from the picture of my Galaxy Note 10.1 here, it has been a favourite for my kids at home (note the teeth marks around the digitizer pen slot and ask my 2 year old daughter about that!).
Since the Galaxy Note range includes the Wacom Active Digitizer Pen it also landed as a personal favourite Android tablet.
Here's what I love about Android tablets:
Choice of hardware
Choice of browser
Choice of marketplace / app store
Choice of storage – microSD card slots with up to 64Gb expansion plus direct access to your files
Easy connectivity with a PC (no need for difficult to use, bloated, buggy, annoying software).
Like Windows 8 Tablets, the beauty of Android is choice. Not all tablets suit all people, and we understand that through years of experience rolling out tablets.
So we have now selected a limited range of Android Tablets for our online store. This currently includes:
We will soon be adding a new range of rugged Android Tablets as some new models become available.
At Tablet PC Solutions we specialise in working with business to roll out Windows and Android tablets to staff in large and small projects. So if you're looking for more than 1 Android tablet, be sure to call us on 1300 110 101 or email us at info@tabletpc.com.au.