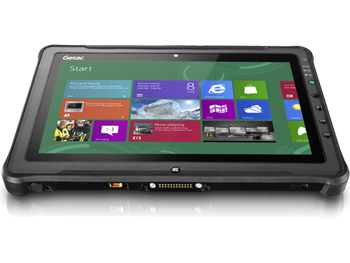 Want the latest Windows 8 Rugged Tablet PC for your business? We have compiled a comprehensive list of the diverse range of configurations, options and accessories available for the new Getac F110 Rugged Tablet PC and placed them in our online store where you can order them online, when ready.
This Military Grade rugged Tablet is both lightweight and slim, and is perfect for any industrial application in extreme environments such as Defence, Emergency Services, Utilities, Field Service or Field Sales.
The Getac F110 Tablet is available to order now, with Australian shipping dates to start from early December 2013 for the Capacitive Touch Screen (1366 x 768) Version. Upgraded versions of the Display that feature Multi-Touch+Digitizer input, or Full HD (1920 x 1080 native resolution) will become available early next year. Capacitive Stylus or Active Digitizer Pens will be available to support both types of display.
On top of the different display types, there will be 5 customisable configurations available via the expansion slot to suit individual usage scenarios including:
Integrated Micro SD Slot (pricing not yet available)
All versions will include a minimum of 4th Generation Intel i5 Processor (i5-4300U vPro™ Processor 1.9GHz, Max. 2.9GHz with Intel® Turbo Boost Technology) with 4GB DDR3 RAM, 128GB Solid State Drive, Intel HD 4400 Graphics, Dual Swappable Batteries, 5MP Rear Camera, Forward Webcam, 6 Tablet Buttons (Windows Start, Power, Function Key, Camera Capture/Barcode Reader Trigger, Volume Up, Volume Down), HDMI out, Headphone Jack, Intel Wifi and Bluetooth, with 3 year TabletCare Warranty. Windows 8 will ship by default, but the Getac F110 Tablet will also support Windows 7 Professional for corporate customers.
Upgrade options will include 8GB DDR3 RAM, 258GB Solid State Drive, Intel Haswell i7 Processor (i7-4600U vPro Processor 2.1Ghz,  Max. 3.3GHz with Intel® Turbo Boost Technology), Tri-Antenna Pass Through (GPS, WWAN, WLAN) for Vehicle Mounting, SiRFstarIV GPS, Gobi 5000 Mobile Broadband (4G), RFID, and Smart Card Reader.
Extended Warranty and Volume Pricing is available for the Getac F110. Need to arrange a demonstration or extended trial? Need Tablet PC training? Call the Tablet PC experts on 1300 110 101, or contact us via email at info@tabletpc.com.au