Exciting times down here in Melbourne! We've been testing the Asus VivoTab Note 8 for a couple of weeks. How far things have come in the tablet world!
What's so special about the VivoTab Note 8? Well, it's an extremely small and portable Windows 8.1 tablet with a Wacom digitizer pen. In fact, it's currently the only 8" Windows 8.1 tablet with a Wacom digitizer pen and it is under $400 inc GST!
If you want to go paperless with companion device, then having a Wacom digitizer on board enables:
Note taking in OneNote
Hand writing recognition
Red-lining and mark-up
Drawing and sketching.
As long time tablet veterans, there were times when we felt like we were the only ones in the world who had praise for the digitizer pen.
But now that consumer tablets have been all the rage for several years, discerning users who appreciate the need for advanced pen technology have turned in droves to tablets like the Samsung Galaxy Note series.
The Galaxy Note uses the same Wacom Digitizer system that featured on all good Windows Tablet PCs for the last 12 years.
And now, finally, we have the same on a small, ultra-mobile Windows 8.1 tablet.
The VivoTab Note 8 features the latest Intel Atom "Bay Trail" quad core processor. The Atom is still not capable of powering a desktop replacement device, but it does leave its predecessors in the dust.
At last with Bay Trail, the Windows 8 experience is where it should be on a companion device. Graphics are smooth, touch is responsive, video is seamless and gameplay is awesome.
There are a few minor sacrifices made on the VivoTab Note 8 to accommodate the Active Digitizer Pen. It's a tad heavier than the svelte Lenovo Miix 2 (340g) at around 390g. It's a tad thicker and the battery life is definitely shorter, but still very acceptable.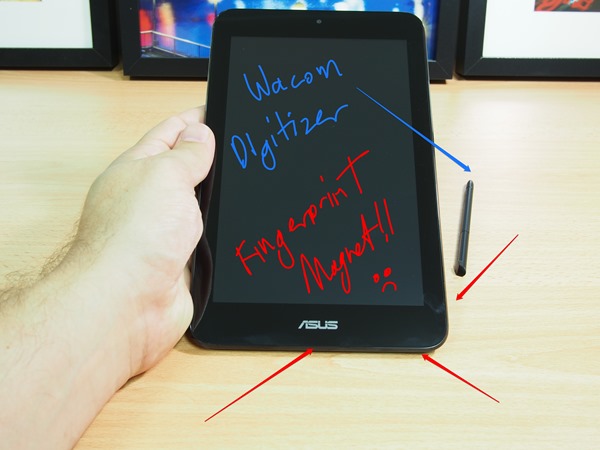 The screen also has an uncanny knack for attracting fingerprints, so we would recommend using a screen protector for better results. But those sacrifices are worth it.
The 8 Megapixel Camera is good for a tablet camera. There is also a 3 Megapixel web camera on the front.
Serious note takers will want to consider an accessory pen like the Wacom Bamboo Stylus Feel shown below. The inbuilt Wacom pen is a good back up, but it is too small and flimsy for extended use.
The VivoTab Note 8 comes with a Microsoft Office Home and Student single licence. That gets delivers Word, Excel, PowerPoint and OneNote. The Note 8 performs great with OneNote 2013 as shown above.
Who will the ASUS VivoTab Note 8 suit?
Office execs looking for a note-taking companion device
Students looking to take notes in class
Sketchers and digital artists looking for a creativity device.
Contact us for more information about the Note 8, or buy online from our website here.