This morning we got up close and personal with the upcoming Fujitsu Stylistic Q704. The Q704 is a high end Windows 8 Tablet (Windows 7 is also supported) designed for business productivity.
Stock of the Stylistic Q704 is expected mid-May and will come in i7, i5 and i3 variants.
The 12.5" screen does not feel as big as you would expect. It has a 1920×1080 full HD resolution and a bright 350 nit display. Viewing angle is very good as you would expect for a high end quality business tablet.
The hybrid Q704 keyboard has a clean, simple layout with nice big buttons and an ample track pad. There is a battery in the keyboard for extended runtime and as you'll see down the post, lots of ports.
One of the competition beating features of the Fujitsu Stylistic Q702 was the fact that the screen hinge was designed to be able to pivot the tablet screen all of the way back. You can that this design has carries over onto the Q704. See that in action below.
All of the other hybrid Windows 8 Tablets can not do this (Samsung ATIV, Toshiba z10t, Lenovo Helix, Microsoft Surface) and it is a sore point for many users.
It's these clever user focused engineering solutions that set Fujitsu apart. They get tablets users like no-one else, but you would expect that since they've been in the tablet game for 20 years +.
The Fujitsu Q704 is IP57 rated meaning that it can get seriously wet! You can see below that there are port covers in place on all the ports to facilitate this.
I wouldn't call the Q704 a rugged tablet, but this is a nice feature for a mobile professional on the go. You never know when a shower of rain or a glass of water is coming at you!
There is a full sized USB 3 port and micro USB 2 port on the tablet along with a SIM card slot (for the 4G internal modem) and a microSD memory card reader.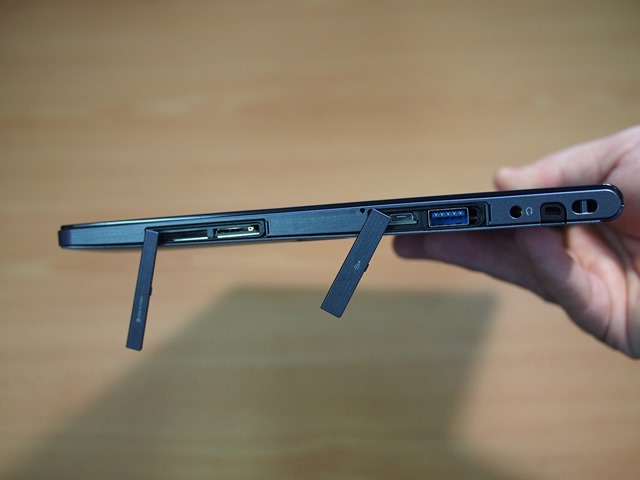 There is a fan on the side of the Q704, along with some standard buttons. There is some talk about users wanting tablets without fans these days, but when you want to get maximum performance out of an Intel Core i7 processor, a fan is your friend.
What I've found so far on the T904 tablets that have come across my desk is that the new Intel "Haswell" Core i7 chips run very cool – around 40 degrees C in average use, 50 degrees C when pushed – so I don't imagine that the tablet will get hot to touch like they did in generations gone by.
The charging tip is the same as the Q702 meaning that power adapters like the Targus Car Charger will continue to work with this tablet.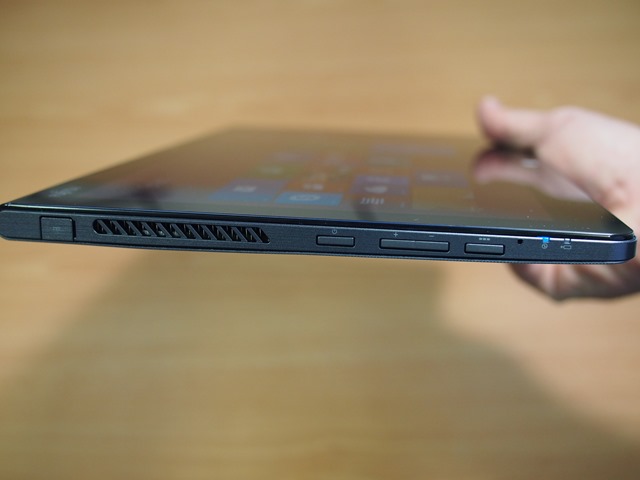 The keyboard dock enables 2 more fast USB 3 ports, HDMI, Ethernet and…
A VGA port.
I still find that 90% of the meeting rooms that I conduct training in only have VGA available to connect. So with the Q704 keyboard handy maybe I can eliminate a few kilograms of the display input cables the weight down my backpack.
Long time tablet users and digital artists will be happy to see that Fujitsu have gone back to using Wacom pens on the Q704.
The new pen design has one right click button and no eraser on the back end, the same pen that comes in the new Lifebook T904. However, 3rd party Wacom Tablet PC pens will still work on the Q704. For example, you might want to use an older T902 pen with 2 buttons and the eraser.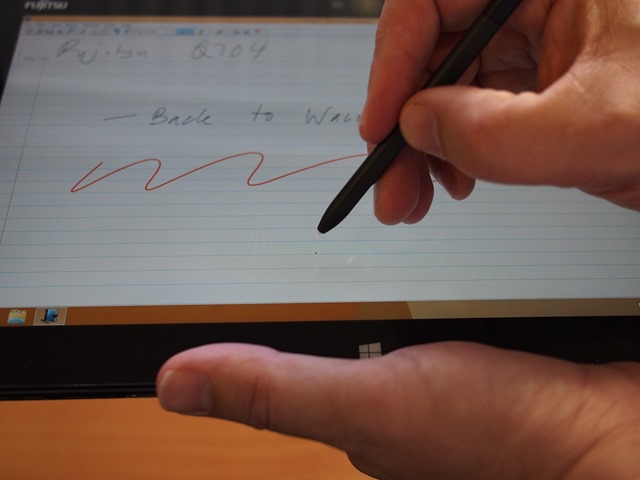 There is a fingerprint reader on board, a huge bonus for people who take security seriously (yes, you seriously should)!
Fingerprint login is another one of those features that Fujitsu have stuck with while most other manufacturers have not. 
The technology became very usable over the last 5 years and it since it is a massive time saver on tablets. Typing on your complex password 20 times a day is no fun, especially when you know that you could just swipe 1 finger and be done with it.
A 5 megapixel camera on the back compliments a 2 megapixel camera on the front to complete the package!
If you want to pre-order a Q704 (I know I have already), contact us on 1300 110 101 or visit our Fujitsu Stylistic Q704 online order page here.