We're watching the live Windows 10 devices event – announcing new Microsoft Band, Lumia 950 and 950XL, Microsoft Surface Pro 4 and Surface Book!
Live video stream found here:
http://www.microsoft.com/october2015event/en-us/live-event
We're expecting to hear more about the next generation Surface – And by the way, we're now a Surface Commercial Reseller in Australia!
Introduction
110 million users now on Windows 10
New Instagram, Facebook and Messenger Universal Apps coming soon!
New devices to be announced!
Xbox
Windows 10 coming this holidays.
Xbox 360 compatibility coming on Windows 10 on Xbox.
C'mon, get to the Surface!
HoloLens
Live HoloLens demo
Project X-Ray demonstration using the Live-HoloLens-View cameras that we saw at WPC.
Holograms you can hold! Awesome…
Applications for the HoloLens Development Kit – Shipping in Q1 for US$3000
Microsoft Band
Version 2 announced
Curved display
More customisation options
More Cortana integration
Now has a barometer!
New Microsoft Health App
Available Oct 30 – US$249
Surface and Lumia!

Surface is $3.5 Billion yearly sales
1000 new Lumia Business Customers
Panos Panay – Head of Microsoft Devices comes to stage!
He's annoyed at the media who leaked the info 😉
Lumia Windows 10 Phone Announcements
Lumia 950 Family
2 Antennas in the phone – switches to best option automatically
950XL Octacore and 950 Hexacore Qualcomm Processors
Liquid Cooling
Glance features on Windows 10 and Lumia 950 and 950XL
OLED Organic LED displays
32 Mb Storage
Expandable storage with MicroSD
USB C connector – 5Gb/second
Fast charging
New Lumia Camera
20MP Sensor – great in Low Light – Zeiss Lens
Triple LED flash
Optical Stabilizer
Dedicated camera button retained
4K Video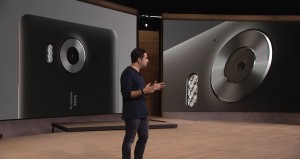 Continuum Demonstration
Brian Roper – This guy is cool, we met him at WPC.
Office, Cortana, Skype, OneDrive, Edge, Outlook – the most productive phone.
Hello authentication with onboard camera – no passwords!
Microsoft Display Dock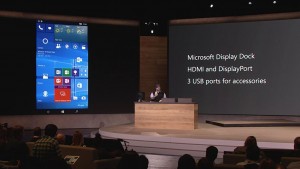 Using the dock to connect an external display, keyboard and mouse.
Apps running off phone expand to look like they're on a PC.
 Standard keyboard shortcuts work on the phone when using the dock.
Running Word on your phone – in full desktop view!
Plug in your USB media to your phone via the dock.
Productive like a boss wherever you are!
Miracast native support
HDMI 1080P video streaming out of the phone!
Lumia 950
Lumia 950XL
Surface
It's Surface time!
Bob Mileti – Industrial Designer Testimonial Video
Using SolidEdge on Surface Pro 3 and writing with the Pen
Surface is used to design the Surface. 😉
98% of users would recommend it!
New Surface Pro 4
6th Generation Intel Core i7 processors!
16Gb RAM!
1Tb Storage!
Truly a device that can replace a laptop and a tablet!
12.3″ Screen
5 Million Pixel Display
Pixel Sense
.4mm Gorilla Glass 4
G5 Chipset from Microsoft – for best pen and touch experience
New Surface Pen
Has an eraser 😉
50% of people with Sp3 use the pen!
1024 levels pressure
Full year of battery life
No recharging!
New magnetic attachment for pen storage.
Hold the pen eraser to launch OneNote!
Double click the eraser to screenshot to OneNote!
Hold the pen eraser down longer to launch Cortana.
New interchangeable pen tips – with individual feel profiles (like ballpoint to felt tip).
 Surface Applications
Drawboard PDF gets a mention! (An application out of Melbourne, Australia that ships free on all Surface 3 and Surface Pro 4 devices!!)
StaffPad – natural music composition
Adobe Photoshop, LightRoom, Premiere will be incredible on this device!
Surface Pro 4 Performance
30% better than Surface Pro 3
50% faster than MacBook Air
16Gb, 1Tb, Core i7 options – no compromises.
Thinner, lighter, more pixels!
Surface Pro Docking
New Dock for both Surface Pro 3 and Surface Pro 4!
Connects through power port, but you don't need a fixed angle on the desk.
Has USB3 Ports and supports 2x 4K Screens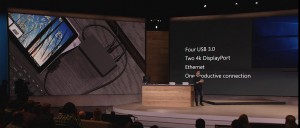 Surface Pro Type Cover
New cover, works with Surface Pro 3 and Surface Pro 4
Lighter, thinner, more sturdy
Better keys – 1.3mm travel
Bigger trackpad
 Windows Hello on Surface Pro 4
Panos demonstrates family switching users with his kids at home…
Fingerprint reader build into the Surface Pro Keyboard.
Front facing camera is full Intel 3D Sense infra red camera for super secure authentication – more secure than password.
Surface Pro 4
Available October 26 (USA)
We'll have one here to try and demonstrate by November 10!
New product announcement – Microsoft Surface Book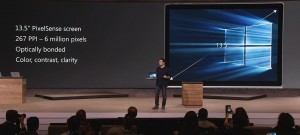 New 13″ laptop with 12 hours battery life
13.5″ Pixel Sense Screen
6 Million Pixels
Touch, Pen and Typing Experience all in one.
1.6mm travel on keys. 16 years of Microsoft Keyboard technology applied.
NVidia dedicated graphics
Built for gamers, coders, designers, architects and engineers.
Aimed at MacBook Pro – 2x faster
Works with new Surface dock.
Live demo of Adobe Premiere Pro on Surface Book – smooth live GPU output – no frames dropped!
US$1499 – October 26th.
Surface Book
Is actually a Surface Tablet too!
The extra GPU is housed in the detachable keyboard.
13.5″ tablet 7.7mm thin.
USB ports are in the keyboard base.
Surface Pen magnetically attached to the side.
Is a hybrid tablet.
My USA Surface MVP friends are all first to get their hands on the Surface Book tablets! Hi guys!
Dynamic Fulcrum hinge design – electronic releases – muscle wire.
Screen mounts either way…
Satya Nadella
Moving people from needing Windows to loving Windows
Windows Store visits and app acquisition is up
Windows 10 devices are ready
We will build devices to be the best they can possibly be!