It's been a confusing few years for OneNote fans. In early 2019 we brought you a video saying that OneNote 2016 was being replaced by OneNote for Windows 10. But, in November 2019, we reported that Microsoft had changed their minds and brought back OneNote 2016. So now, in 2021 let's talk about what's going on with OneNote.
Throughout the past year and a bit, the OneNote Team at Microsoft has been busy at work dusting off the old code of OneNote 2016 and updating it to a modern standard. That's now shipped out, and this version of OneNote is now once again included in new Office 365 installations!
Now in 2021, if you install Office on a new computer, you'll get OneNote 2016. Well actually, OneNote 2016 is now called: "OneNote". Sometimes, in the documentation they call it OneNote Desktop, but the icon now just says OneNote. The other version of OneNote on Windows continues to be known as OneNote for Windows 10 and it will still receive updates and new features.
New OneNote Features
In terms of new features, we've recently seen the new Notes feed show up in Outlook on the Web, in OneNote online, the OneNote Mac and mobile apps, and both versions of OneNote on Windows. The OneNote Notes feed brings together your recent Sticky Notes, Samsung Notes and OneNote pages into the one place.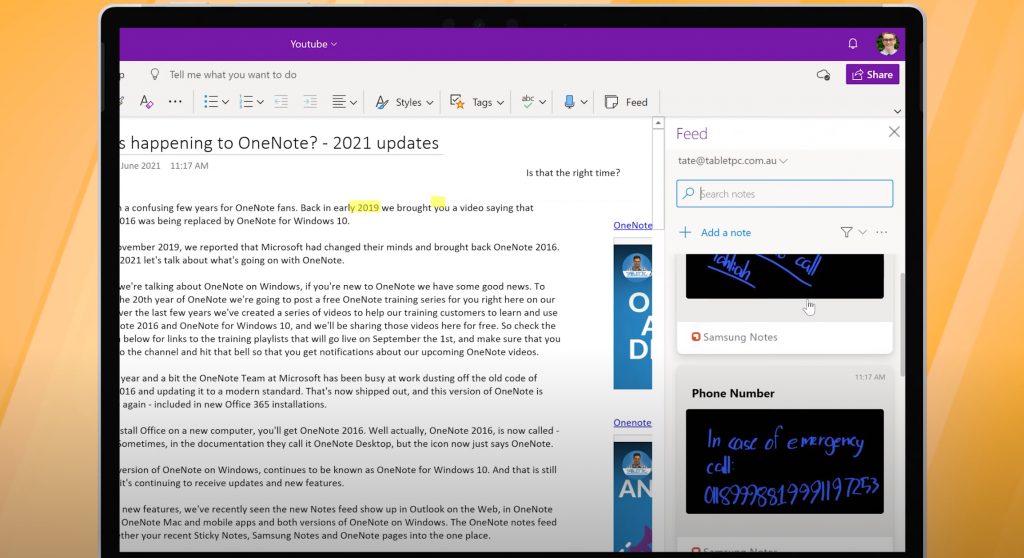 So that's just one example of new features showing up in all versions of OneNote. But, how did we find ourselves in this mess of different OneNote versions, and which one(note) should you be using in 2021?
Why the Different Versions?
Well, way back around the release of Windows 8, the OneNote team really embraced Microsoft's vision of the future. The Universal Windows Platform (UWP) was a really cool concept that aimed to have apps that could run across any device on windows. A windows based mobile device, a HoloLens, an arm based tablet, a full blown windows desktop PC, all could run the same app.
But as history played out windows mobile devices failed to win over the market. Which led to UWP being painted into a corner. To be really blunt about it, without mobile devices it came to represent a compromised framework with no purpose. And over the last few years, the UWP platform features have been made available to all Windows applications, rendering the platform further redundant. There's a lot more to be said about this, but the real point is that OneNote backed the wrong horse. You can't always pick the winner years in an advance, and OneNote certainly didn't.
What's the Future of OneNote?
Ultimately, the desktop version of OneNote is back, and we expect it to catch up with some of the great features of OneNote for Windows 10 over the next year. We've already seen dark mode and the OneNote feed added to the product formerly known as OneNote 2016.
Back in late 2019 Ben Hodes, the product manager at OneNote, told the verge about some upcoming new features. They include; Faster sync, Teams @mentions, better search across Microsoft products (like Windows and Teams), new meeting notes experiences, integration with Microsoft To-Do, accessibility updates and a better inking experience. We'd expect to see some of these features ship into OneNote this year.
Features We Would Like to See
Other things that have not been announced, but that we'd like to see in 2021 include direct integration with Office Lens. Office Lens is Microsoft's fantastic camera implementation for capturing documents. And it is included in OneNote for Windows 10, but not OneNote desktop. It would be nice if it could even include some of those cool Microsoft Whiteboard capture features that allow you to convert a physical whiteboard into a digital one.
We'd also like to see an updated look and feel, perhaps including the navigation experience of the Windows 10 app. This navigation layout is more consistent with OneNote on the Web, Mac and Mobile. That said, since so many people in the corporate world have worked exclusively with the traditional navigation of OneNote on the desktop, there needs to be choice.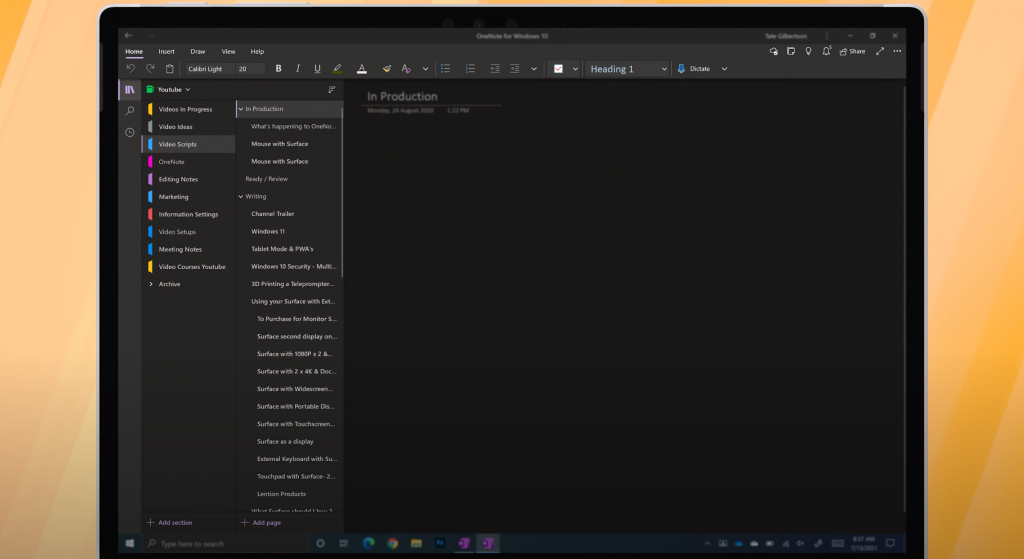 There is a benefit to both navigation styles. For example, in the Windows 10 app I love being able to turn off the navigation easily and focus on the page, but with the menus still visible. On the other hand, OneNote Desktop has the full page view. This also allows me to focus on the page content, but in a slightly different way.
Which OneNote Should You Use in 2021?
If you're like me and prefer the modern look and feel of OneNote for Windows 10, continue to use it. Even though the OneNote desktop app is being updated and it's now the standard app that is delivered with Microsoft Office, there is no urgency to change what you're doing now. I do 99% of my work in OneNote for Windows 10. I don't plan to change back over to the desktop version until the promised features (like the new inking experience) get delivered.
If you use the OneNote desktop app (formerly known as OneNote 2016), continue using that. There's no real reason to change. Microsoft have publicly stated that they intend to continue to support both versions of OneNote on Windows. And if you want to, there's nothing to stop you from using both if you so choose.
OneNote is Back!
What does matter, is that now in 2021, OneNote is once again a part of the Microsoft Office suite. (Yay!) And Microsoft have included OneNote as a key part of their Fluid Framework. Fluid Framework aims to make data available in its best format regardless of the app that you're using.
For example, Fluid would allow you to work on table data right within Teams as though it were in excel. It will make ink from your Whiteboard available in your OneNote page. And it will power the integration between OneNote and To-Do. Which means you can generate your action lists, directly into your project plan from your meeting notes. It is a really important part for the future of Office 365, and it's great to see OneNote featured prominently there.
New OneNote training course!
If you wan to learn more about OneNote, Microsoft Office, and Fluid Framework, head over to our YouTube channel! We release weekly videos that aim to help you get productive. And to celebrate the 20th year of OneNote, we're going to post a free OneNote training series! Over the last few years we've created a series of videos to help our training customers learn and use both OneNote 2016 and OneNote for Windows 10. And now, those videos are free for all to view. Click here for links to the training playlists that will go live on September the 1st. Make sure that you subscribe to the channel and hit that bell so that you get notifications about our upcoming OneNote videos.