For years now Google have acted like Windows is the subsystem that runs the Google chrome browser. They don't publish any apps for Windows at all really. It's a shame because most of their customers use Windows. Thankfully, there has been a push towards progressive web apps or PWAs. So some apps can now be downloaded for Windows 10 outside of the browser window, and outside of Chrome. This includes apps like YouTube, Google Maps and Google News. There is no PWA yet for Google Drive, Docs or Gmail though.
But this is good news for Windows users. Google have finally acknowledged that:
"Some people prefer to have access to their files and photos directly on their desktop, just like files that are stored locally on your device."

Scott Limbird
That's right Google. Some people work outside of your browser! Shocker!
Google Drive for Desktop
Anyway, the good news is that Google have published an app on Windows – the new Google Drive for Desktop. It replaces Google's outdated and poor Backup and Sync tool that has been long outclassed by its competitors. Both Dropbox and OneDrive have had smart file sync for years now. Smart sync or file streaming as Google call it, allows you to use your file explorer to see and access files that are stored in the cloud. Files are downloaded and stored on your PC when you need them, rather than having them always stored on your device, or having to mark them specifically for download.
So, when you have one, two or five terabytes of cloud storage, you don't need to have a computer with a massive hard drive to keep them in syn. And that's smart when you think about it. These sync systems do a surprisingly decent job of tracking the files that you need. Based on what you're working on, they automatically download these selected files in case you need them.
Installing Google Drive for Desktop
Oddly, once you've installed it, the new Google Drive shows up as a drive letter under This PC in Windows. I think that's a bit of a slap in the face. Like Google think that using files is so 1999 that we need a drive letter to figure out how files work. They should have called it A: drive for all of us over forty who used floppy disks. But 'G Drive' is the product name. And it shows up in Windows as a literal G: drive.
For what it's worth, Dropbox and OneDrive just show up in the directory tree under their names, not as a drive letter.
Anyway, because Google's solution relies on drivers to make that G: drive happen, it does not work on ARM based Windows 10 computers like the Surface Pro X. Google could fix that by publishing a driver for ARM based Windows computers. I think it would be simple enough, but let's not hope for too much, eh?
Store non-Google files
Unbelievably, clicking on a Google doc or sheet in the G: drive opens the file in your default browser, even if it's not chrome! Well done Google! And you can store non-Google files in there of course. If you put a Word doc into your G: drive it will open in Word, and it'll even prompt you to share the file with others via G: drive.
Real-time editing
Real-time editing on a Word document in the desktop version of Word did not work for me. That is something that works seamlessly with OneDrive. But with G: drive, I had to open the Word doc using Google Docs in the browser to make that work with an Office file.
Add-ins
The new Google app also comes with some Outlook add-ins. I can see that they could be handy, but I didn't want them. And there is no way to opt out of installing them. So, downloader beware you will have to switch these off if you don't want them. Add-ins can be a real pain point in Office since they make everything load slower. If the developer hasn't done a decent job creating them, they can easily play up and crash your app. So it's best to avoid them and switch them off if you don't need them.
Google Drive Sync Client
Click on the Google icon in the Windows system tray to adjust the sync client settings. For example, you may want to consider whether to run this app at start-up. If you're on a battery-based device like a Surface Pro (and if chrome is anything to go by) this won't do wonders for your battery life. There is no setting to pause sync if you're on battery saver mode. There is also no setting to pause downloads on a metered internet connection. So beware if you're planning to use G: drive on your mobile broadband connection where data is usually more expensive.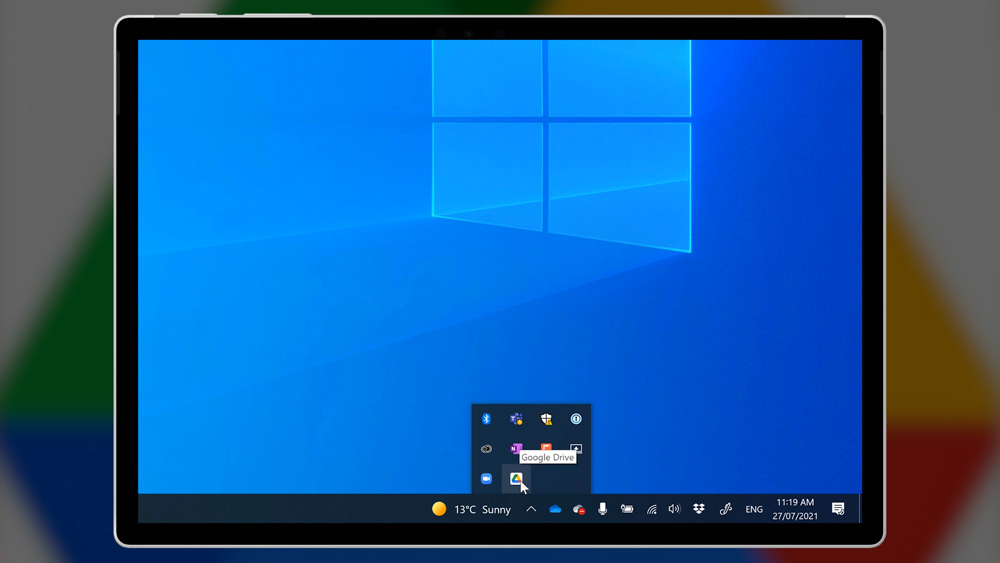 Google Drive vs OneDrive vs Dropbox
Personally, I'll continue to use OneDrive to store files because of the great apps on all platforms including Windows on ARM. Plus, the 1 TB of storage that I get with my Office 365 personal account. And the 5 TB I get with my OneDrive for Business account. Also, the fact that OneDrive enables automatic saving, version control and real-time co-authoring via the desktop app or the browser is a key advantage. Not to mention the battery and 4G friendly settings options. However, I also use Dropbox quite a bit for personal projects.
And it is handy to have this new sync client to use with customers and friends who are all in on Google. So thank you Google. Let's hope we see some more of this Google that meets customers where they are, rather than the Apple style "they'll do what we tell them to" approach.