Now that Microsoft have started updating OneNote desktop again, the question needs to be asked what can it do that OneNote for Windows 10 can't?
Now don't get the wrong idea, you can happily continue to use the OneNote that you prefer. As it stands in 2021 Microsoft are supporting both versions. But as development on OneNote desktop continues, we expect the gap between the two apps to close.
Personally, I use OneNote for Windows 10 to take notes, to write my scripts, to work on ideas and to store articles and web clips on topics that I'm researching. But there are several limitations of OneNote for Windows 10 that occasionally force me to use OneNote Desktop.
OneNote Desktop allows you to deal with local OneNote files
The most obvious and immediate missing feature in OneNote for Windows 10 is the ability to deal with local OneNote files. And that shouldn't seem like a major problem for people like me who work from the Microsoft cloud. I'm happy to store my notebooks in Teams, SharePoint, and OneDrive. I get a far more reliable and faster sync across all my devices with OneNote for Windows 10 and Office 365 than I have ever could have using a file server on a network. But the OneNote desktop version allows me to export '.one' files. What does that mean?
Well, say I'm working with a customer, and I want to share a copy of a OneNote notebook. I really need an uncomplicated way to package up and email or share a copy of my OneNote notebook. With OneNote Desktop I can go to File > Export. That way I can export OneNote files including a page, a section or even a whole notebook. I can then share that file. The receiver of the file can simply double click on it to open it in OneNote desktop.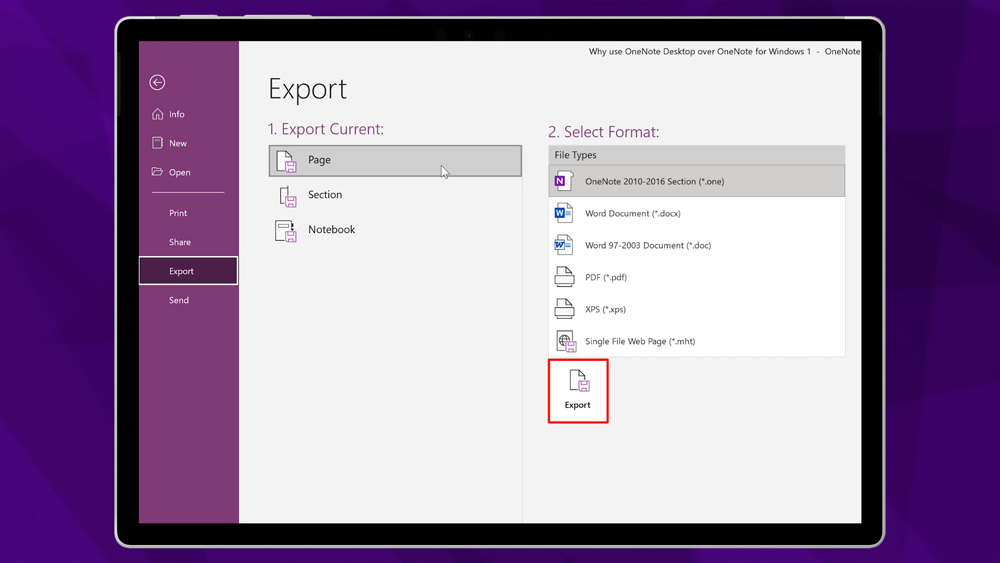 Over the years we've seen many customers who are constrained by security requirements that don't allow them to use cloud solutions. And OneNote Desktop allows those customers to continue to work with OneNote using secure file storage systems within their own environment.
OneNote Desktop has direct integration with Outlook
Another feature that's really lacking in OneNote for Windows 10 is direct integration with Outlook. And there are three aspects to this.
Firstly, task management.
One the home menu in OneNote Desktop there is a flag icon that allows you to turn a line of text – or even a line of handwriting on your page – immediately into an outlook task. In both OneNote Windows apps, we do have a tagging system that allows you to mark items with a to-do checkbox. But unlike that simple solution, using the outlook flag generates a task that will show up in Outlook and in the Microsoft To-do app. In Outlook you can even assign that task to a colleague. In a OneNote page it acts just like that simple to-do tick box, but it has the added benefits that come with a task list system.
Secondly, email page.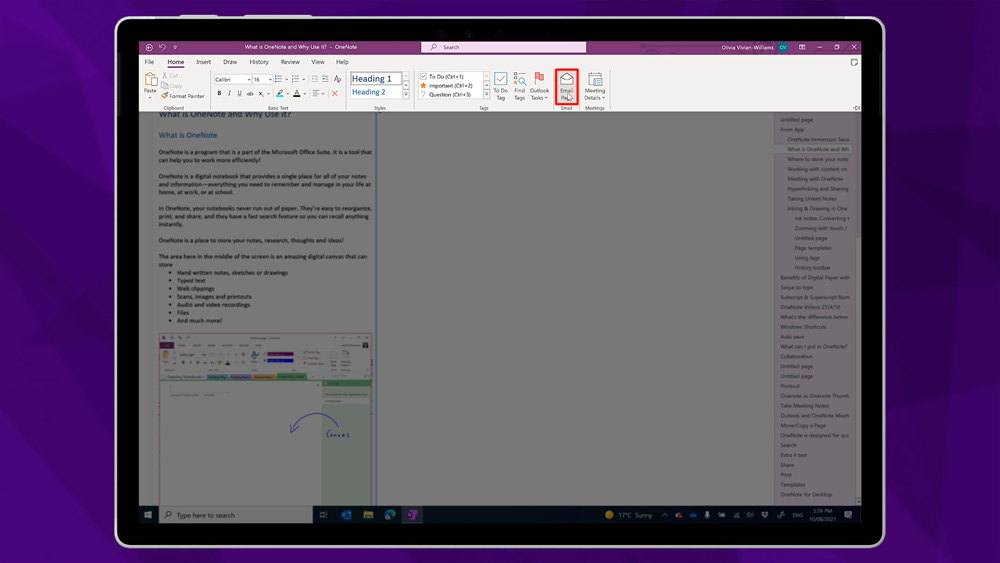 This is a super handy feature that is sorely lacking in OneNote for Windows 10. It allows me to immediately send the contents of my page as the body of an email. I've seen a lot of customers create templates in OneNote that they quickly turn into an email using this feature. And I've used this feature myself a lot for sharing support information that I've captured in OneNote. So, this is a very handy feature, but you won't find it in OneNote for Windows 10. This is due to the constraints of the UWP platform. You could just copy and paste, but the email page feature is easier.
Thirdly, meeting details.
This feature opens your Outlook calendar and lists all the meetings that you have for the day. Click on the meeting to grab the details including the agenda, attachments, and invitee list onto your page. Just below that is a space to take your meeting notes. Now, this feature is available in OneNote for Windows 10. Sort of. It's slightly different and requires internet connection.
Full Page View
When I'm working on content in OneNote Desktop, I really love full page view. This is unique to OneNote Desktop. Although OneNote for Windows 10 has full screen mode, this is different. This full page button (click the double diagonal arrow in the corner of the page) will fit to the current OneNote Window size, not the whole screen. This means that I could have two OneNote pages side by side in this focus mode without all the menus and distractions.
Faster Ink Recognition
Although the inking experience is a little dated in OneNote Desktop, when you're writing notes here, ink is recognized as text instantly. This makes your handwritten notes searchable (as soon as the ink is dry)! And that's the same with pictures too. Drop a picture with text into OneNote Desktop and you can search it and extract the text instantly. On the other hand, while OneNote for Windows 10 has these features it can take a long time for the processing to happen in the background.
Easily move content between notebooks
The last feature that I miss when I'm using OneNote for Windows 10, is the ability to easily move content. Pinning the notebook list open on the left-hand side of OneNote Desktop allows me to expand notebooks and see their sections even when I'm not in the notebook. That means that I could seamlessly drag a page from the notebook that I'm in and drop it into a section inside of another notebook. As much as I like the navigation that's found in OneNote for Windows 10, it's much easier to move stuff around using the OneNote Desktop app.
More OneNote content to come…
In a future blog post, I'm going to consider the other side. Why use OneNote for Windows 10 over OneNote desktop? As we mentioned at the outset, over the next couple of years we expect this whole discussion to disappear as development steams ahead on OneNote Desktop. And in the meantime, don't be worried about switching from one app to the other. You can happily continue using OneNote for Windows 10 or OneNote Desktop if you prefer.
FREE OneNote Desktop Course!
We're recently announced that we're celebrating the 20th year of OneNote over the next 12 months by releasing a free video training series on the oztabletpc YouTube channel. Trouble is, I got the dates wrong. Although OneNote was announced in 2002, it didn't really hit the market until 2003. So, I guess we can only say that it's 20 years in 2023. 20 years is a long time as it turns out. Anyway, I'm running with it!
We've created a series of videos to help our training customers to learn and use OneNote. We'll be sharing those videos on YouTube for free. Our training playlists will go live on September the 1st. So, make sure that you subscribe to the channel and hit that bell so that you get notifications about our upcoming OneNote videos.