Back on September 22nd Microsoft launched 8 new products. And I'm personally most excited about the new Surface Duo 2. Should we call this the two two, or the 22? I've been a Samsung user since I ditched the iPhone many, many years ago. For the last few years, my Samsung of choice has been the Galaxy Note series – for one simple reason, digital devices need to have pen input.
The overall design of the Surface Duo 2 is nicely refined from the original. The dimensions have been tweaked, the processor upgraded, there are more cameras than you can poke a stick at, there is 5G, new brighter 90Hz Amoled Displays, even a fingerprint reader! Everything that you could want in a phone seems to be there. But let's talk about why the Surface Duo exists, how you could use it, and even though the Duo 2 is pretty unique, how it compares to other phones in a similar category.
Why is a Pen so Important?
Microsoft's Peter Kyriacou spoke about the importance of using a pen in the Surface launch event.
The benefits of writing with pen are incredible, from boosting memory to improving mental and physical health.

Peter Kyriacou
Our series on the science behind the Surface pen explains why he can say something so profound. Back in 2001 it made complete sense to me to have a pen on a computer! But using a pen on a phone is tricky. The screen is just so small. As phones have gotten bigger and bigger, phones with pen input have become a little more realistic… And yet still compromised. I want to be able to take a quick note, jot down an idea or a to-do. Yes, I could type it, but I'd be far more likely to retain it if I could write it. I do use the pen on my Galaxy Note phone, but not as much as I'd like to. The screen is just too small and narrow. The pen is too skinny, and it's not easy to write with.
But now, Microsoft are sending us a Surface Duo 2 to try out, so it's logical that I will compare it to my Galaxy Note 20. I'll also compare it to Samsung's Galaxy Z Fold 3 with it's dual screens. It is probably the closest thing to the Surface Duo, even though the approach is very different.
Duo Displays
The Surface Duo has two 5.8 inch 3 by 2 panels. They are not joined in the middle, rather there is a funky folding hinge that connects the two halves. Both displays then roll off in the center to create a book like effect. Thanks to this rolled edge, when you fold the Duo shut the edge lights up showing you your battery status and notifications.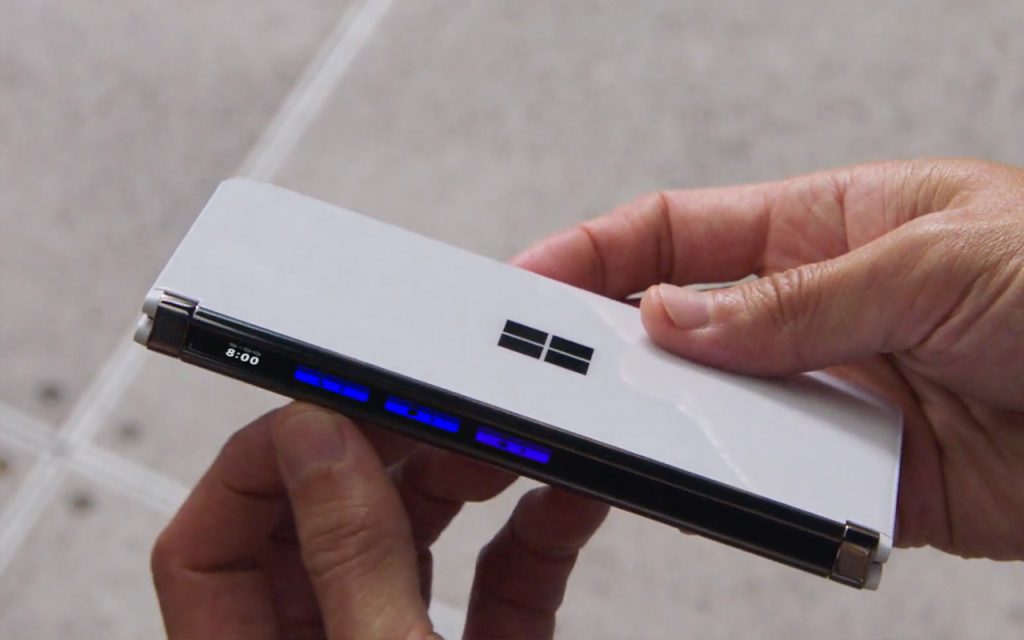 Unlike the Galaxy Z Fold you have to unfold the device to use it. There is no display on the back of the device. But you can fold the displays all the way around for single screen use. This 360 hinge means you can do all sorts of things with the other half, like prop the device up. I love this idea so much because with my current Galaxy Note, I designed and printed a TPU holder that props the phone up so that I can make video calls and watch content on it handsfree. With the Duo 2, I won't need a stand like this because it's built right in.
When you need more screen real-estate, you fold the displays into the open posture and the two displays work together, seamlessly in sync as one at 90Hz. The two screens combine into an 8.3 inch 3:2 display with 2688 by 1892 pixels. That's bigger than an iPad mini, but with way more pixels.
Incredibly thin, and 3:2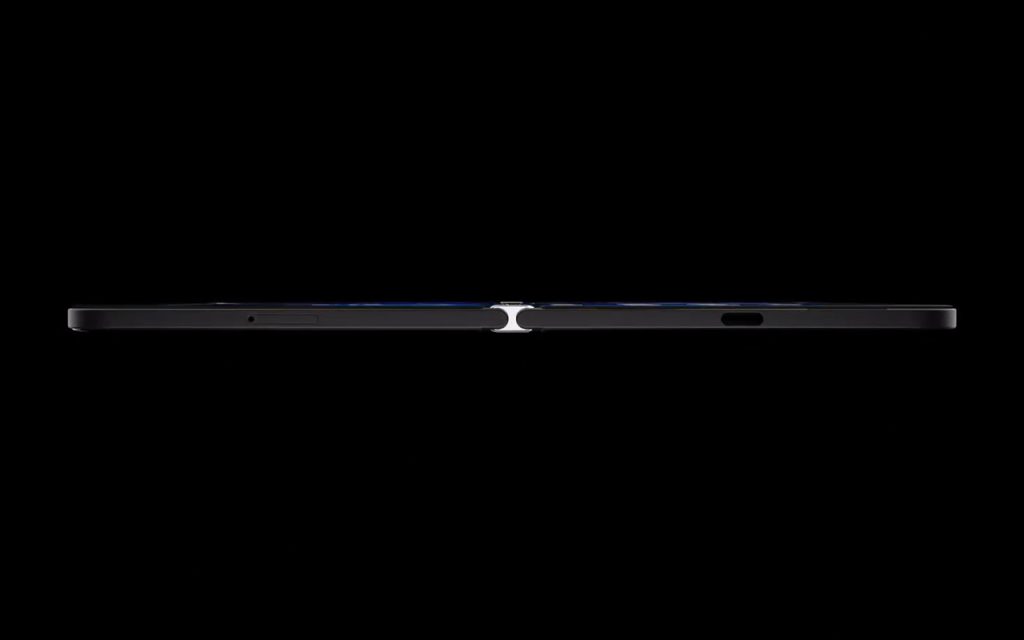 Unbelievably the Surface Duo's already thin display panels are now even thinner, just 4.8mm. And just 9.9mm when closed. Even though it's a two screen phone, it is no thicker than my Galaxy Note 20 when it's closed! 9.9mm on a 2 screen foldable phone- That is an amazing feat! By comparison the Z Fold 3 is around 15mm. Although, the Surface is only able to achieve that size because it does not have a 3rd outer display like the Z Fold 3.
Since Surface always steer towards the 3:2 display, the Duo 2 is a bit wider than the Galaxy Note and Z Fold 3, but it's also a little shorter. While the Note 20 and Z Fold 3 both have wide 19 and 24:9 display ratios, good for watching movies. The Surface has a much more productive 3:2 display, better suited to taking notes, reviewing documents and managing communications. Of course, there is a gap in the middle of the two displays. But I'm sure like your nose, the gap will quickly be tuned out by your brain. Of course, there is a gap in the middle of the two displays. But I'm sure like your nose, the gap will quickly be tuned out by your brain.
How does this work with Apps?
You can use both displays together as one big display, or you can use them separately with apps side by side. Certain apps will automatically take advantage of this two screen setup. For example outlook would show you your inbox alongside of an email. A game, might show the controller on it's own display, rather than over the top of your game. Or your camera, could show you a full sized preview of the shot that you just took, while your camera app is still open.
Even if the app is not dual screen ready, you can run it on its own display, or run it full screen, spanning the two displays. So you could have the YouTube app open alongside of your web browser. Email alongside OneNote. Amazon alongside eBay. Your picture gallery alongside your Word document. Excel or PowerPoint alongside of a Teams or Zoom call.
Double the screens, double the performance
It's this capability that Microsoft have been refining over the last couple of years that sets the Duo apart from other phones. And I think it's incredibly important. In fact, I think this is future of mobile devices. Don't get me wrong, today's cell phones are incredible, computers in your pocket. But why, with such power, do I still have to park things into my memory while I jump between apps? I have to remember the time and date that you wanted to meet with me while I jump into the calendar app and flick through looking for the right spot.
When you're forced to do this, there are so many opportunities to lose your place and get distracted. But by having the information you need side by side, you can stay focused, and double check on details much more easily. This capability will allow you to do more than ever before with a phone.
Camera Quantity and Quality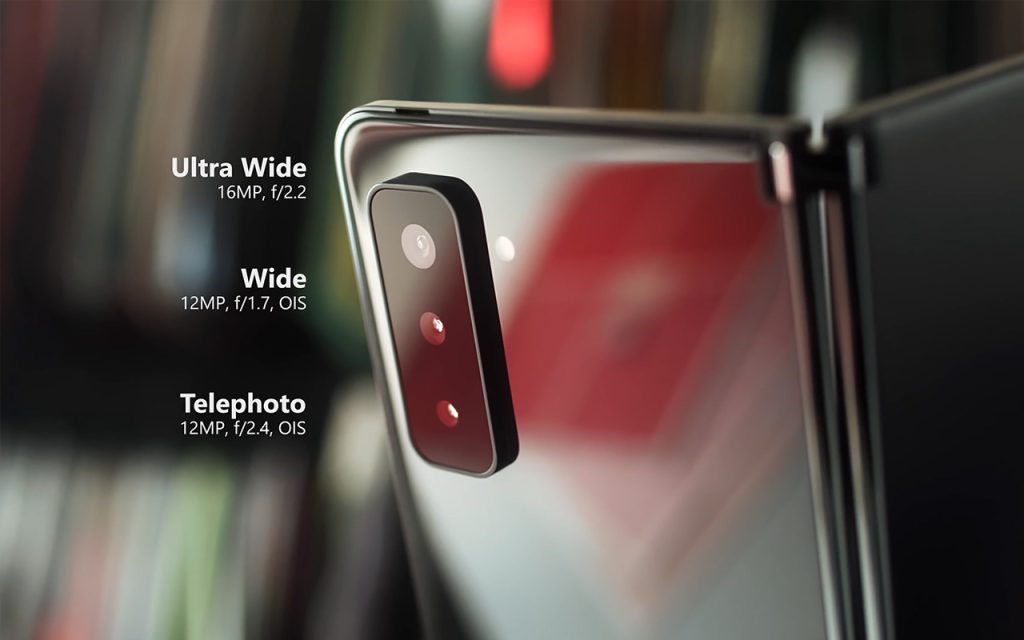 The Surface Duo 2 had a big upgrade in the camera department. There are now 3 cameras on the back: wide, standard and zoom. It can shoot 4K video, and there is optical stabilization built in. There is a time of flight sensor there too for better autofocus as well as shooting photos with that fake bokeh effect, or background blur. So it appears that these cameras enclosed in the bump at the back of the Duo 2 will deliver good photos to a high standard. No need to resort to rubbish hypno-marketing buzz terms like computational photography! Why can't we just say camera app without parroting marketing spin people? Sorry… Back on track, taking photos with the second screen in play promises to make the process of capturing a timeless moment easier than ever before.
There's also a camera on the inside for selfies and video calls too. Plus a dual Microphone array which should deliver a high quality voice experience.
A different screen gap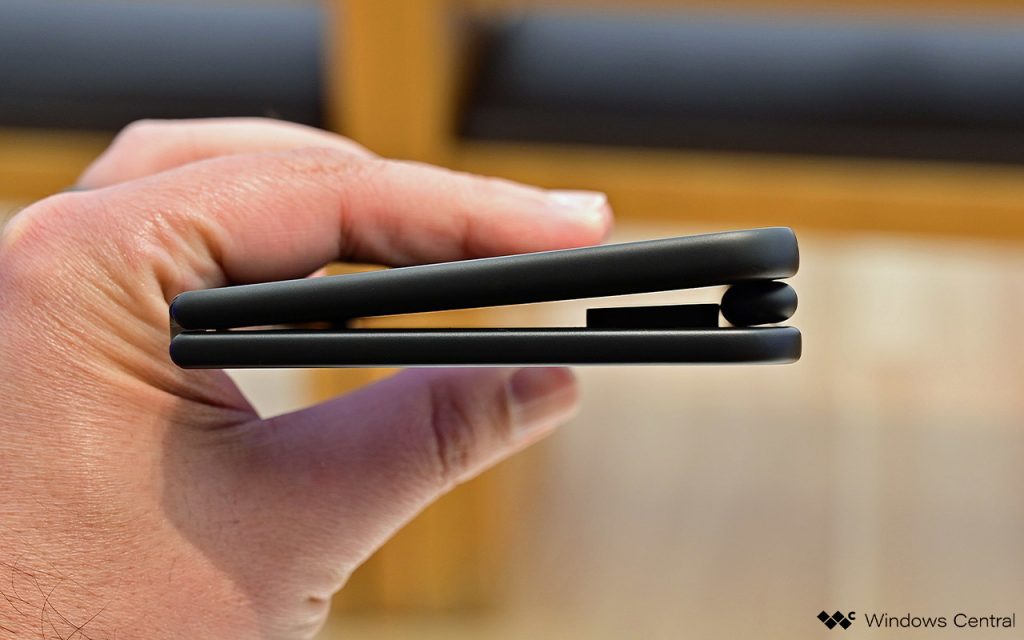 But just on that bump, Microsoft seemed at pains not to show that the Duo 2 would not fold over flat anymore. Dan Rubino from Windows Central shared a photo of the bump, and I noticed that is has an angle built in. So it will essentially act as a stopper for the device when folded around. But there will be a gap, though we are kind of used to the concept of an air gap on Surface thanks to the Surface Book series.
I'll be interested to see how the air gap feels in use once I get my hands on the Duo 2. And by the way, as I mentioned, Microsoft are sending us a couple of Surface Duo 2s. For me and my brother Mat who pops up on the YouTube channel from time to time. We're looking forward to sharing the experience with you.
Pen on the Surface Duo 2
So as we mentioned, the new Surface Duo 2 supports Surface pens, just like the Original Surface Duo did. You can use any Surface Pen on it, from the Surface Pro 3 pen all the way to the new Surface Slim Pen 2. That's because the Duo 2 display incorporates the Microsoft Pen Protocol or MPP standard – as do many other non-Surface devices. And because both displays are made from super strong Corning Victus glass, you can use any MPP pen. Like, for example, the great Renaisser Pens that we have reviewed here.
The Samsung Z Fold 3 uses Corning Victus too, but there is a special plastic film over the top, which means that you can't use just any pen on it. The Z Fold 3 and Galaxy Note series use tech we know as Wacom EMR, or electro magnetic resonance. Wacom EMR pens are powered by the display itself, they do not need a battery at all. So you could use any of the myriad of Wacom EMR pens made over the last two decades. In fact, the pen that came with my original HP tablet from 2001 would work on the Z Fold 3. However, Samsung specifically recommend that you do not use only their recommended pen's as other Wacom EMR pens could damage the sensitive screen of the Z Fold 3.
An upgrade to writing
If you want to use the new Surface Slim Pen 2 with your Duo, there will be an optional cover that allows you to magnetically attach and charge it. It will also work with the original Slim Pen. The cover clips onto the back of the device, keeping the pen in reach when you need it. It also comes with some bumpers to protect the edges.
The experience of writing on that 3:2 unfolded display promises to be a lot more fulfilling than it is on my widescreen Galaxy Note 20. And when we have the device in hand, we'll bring you an update on that experience.
Your Phone and Computer Together
One of the key reasons I've loved my Galaxy Note phones over the last few years is the Your Phone app on Windows. Samsung did a lot of work with Microsoft to make it possible to run apps from your phone directly on your Windows PC. We actually did a video on that recently. And as you'd expect, that tech is also built into the Surface Duo 2.
Should I buy the Surface Duo 2?
So the Surface Duo 2 promises to allow us to get a lot more done on our phones. And as such, it is being launched here in Australia, but not at retail stores. In the US you can get it at Best Buy and other retailers, but here in Australia it's being sold as a productivity device. So you can only buy it through the Microsoft Store or commercial resellers. And that makes sense to me, because this device is sure not for everyone.
If you get one of these, your chats will show up in green on your friends super exclusive iMessage chats. Apparently that's considered shameful among the teenage tik-tok set. Don't even think about this device if you care about that crap! This is a device for people who want to create, communicate and lead – no matter where they are. If you need to jump on a Teams or Zoom call on your mobile device, then this is where you should look. You won't find another device like it.
The Surface Duo 2 hits Australia on October the 21st. We're expecting ours to arrive around that time, and we look forward to sharing the experience with you.