Zoom fatigue. What is it? And how do we fix it? Back in February 2021 the Stanford social media lab released a peer reviewed research paper outlining the symptoms and causes of 'Zoom' fatigue. But it's not only about Zoom. The paper is about all forms of virtual meeting and video conferencing.
This blog is the first of a short series on Microsoft Teams. Teams is a key Zoom competitor in the video conferencing market. Microsoft Teams is much than a video conferencing tool. And in this series, we'll take a deep dive into all the important aspects of Teams.
Zoom Fatigue: What is it?
Can you imagine living through the COVID-19 pandemic without Zoom, Teams or your favourite of the dozens of video calling apps? I'm very thankful that we had tools to get through. However, Zoom fatigue relates to the downside of video conferencing tools. If you're amongst the millions of people who have spent a great deal of time working from home, you might intuitively know what I'm talking about. This Stanford paper puts science to work to explain what we've been feeling.
Symptoms of Zoom Fatigue
The paper found that after a long day of video conferencing people were irritable, exhausted, and had sore eyes. They felt the need to avoid social situations. They felt emotionally drained, and too tired to do other things. Sound familiar?
I know it does for me. In the last 18 months I've run Teams coaching sessions for thousands of people on Teams. However, I've only had one single opportunity to be in a room with 3-dimensional people to run a digital skills coaching session. 18 months of staring at screens has left me feeling flat.
So why are we feeling this way?
The Stanford paper identified four key reasons that meeting online is harder than a face-to-face meeting.
To summarize, the four reasons outlined were:
Face to face eye contact is intense
Seeing yourself is fatiguing
You're not moving enough
Cognitive load is much higher!
Let's look at these points a little closer. Then, we'll suggest some ways that we can use the tools that we have to mitigate these issues. We'll also suggest better ways of working, even remotely, that recognize these issues.
Why we experience Zoom Fatigue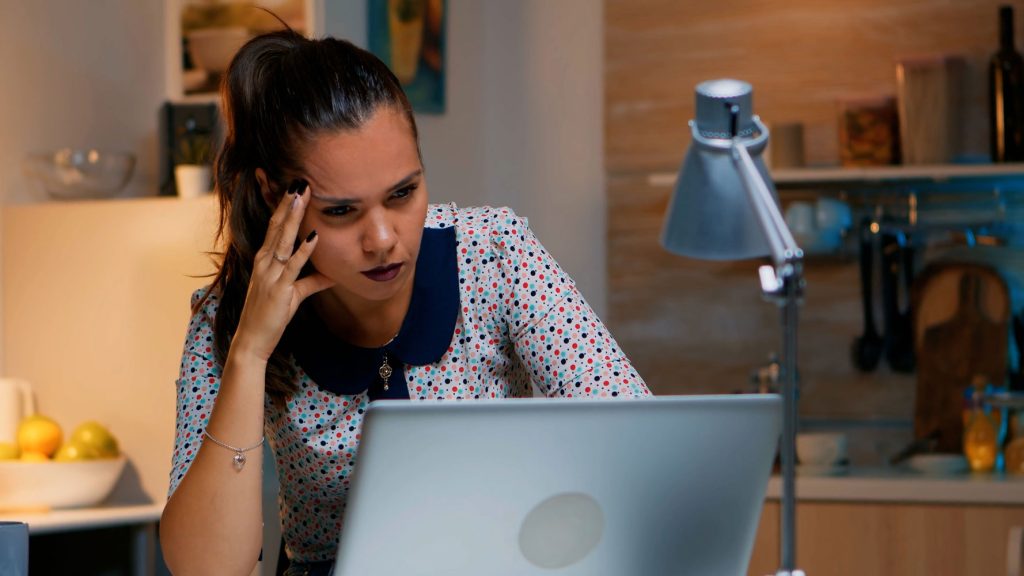 Face-to-face contact is intense
The researchers identified that the posture of a video conference is unusual. If you were in the office and you went to the conference room for a meeting you would sit alongside people, or opposite people from a distance. You would be focusing on a presentation, a whiteboard, or a person leading the meeting. You would not be sitting squarely in front of somebody eye-to-eye like you are in a video conference. In that way the setup of a video conference is intense.
2. Seeing yourself is fatiguing
Closely related to the intensity of face-to-face contact is seeing yourself. Imagine being in your conference room with a large mirror sitting right in front of you. You suddenly become aware of your hair, your makeup, your lighting, your expressions and how many times you've blinked in the last 20 seconds! Seeing yourself in a meeting is very unusual, and it's very distracting.
3. You're not moving enough
Not moving enough is a tricky one to deal with when working from home. And you might be thinking that this is about the natural movement that we have when we are at the office. For example, you go from meeting room to meeting room, or from your desk to meeting room. You catch up with people in the lunchroom or in the hallway. There is a fair bit of physical movement that comes with being in the office and getting to your meetings. However, this is more about the natural movement that you do when you're in a meeting room, at a meeting.
This paper references other research that discusses how cognitive performance improves when you move around. I know that when I'm running training sessions in person I always stand up. I'm much sharper when I'm on my toes than I am when I'm sitting down. There's a lot of important movements that happen in a face-to-face meeting. Getting up and going to the whiteboard, brainstorming an idea, handing the pen over to somebody else. We miss that physicality when we're sitting in front of a computer, framed perfectly in our little box.
4. Cognitive load is much higher!
And lastly the researchers found that cognitive load is much higher in video meetings than it is in person. Initially I thought that this point was related to the boxes, the grid of small squares in a video call.
Seeing people in a grid means that you must scan across a whole area to see everybody's reactions and body language. We know that non-verbal communication is incredibly important. Physical expression and tone make up a good portion of the communication that we receive. And in a video call, everyone is muted (or we wish they were). So, we can't hear their involuntary non-verbal sounds. We can see their body language if they're on video, presuming that we can see enough of them. But there's a lot of processing and scanning that we need to do there, compared to being in the room, where we can take it all in immediately.
So that is certainly part of the cognitive load of a video call. But there's another crucial point here. You need to be a lot more conscious of yourself when you're on video. When somebody says something that you need to react to, you make exaggerated movements to show the other person that you're listening. We've become used to making exaggerated facial expressions and gestures. So, we not only have to scan a lot more to take in the view of the audience, but we also must really think about the way we react. And it's not the way we were used to doing it when we're in the room.
Can we fix Zoom fatigue?
So, can we fix Zoom fatigue? Fortunately, both Teams and Zoom have produced ways to address some of these issues. And there's things that we can do within our organizations to reduce Zoom fatigue.
1. Use 'Together Mode' or 'Immersive View'
Firstly, in Teams there is Together Mode. In Zoom it's called 'Immersive View'.
If you've tried it before you might have found it a little bit weird. Together Mode uses AI to cut out a silhouette of each person, and it places them into a gallery background that looks something like a theatre or a meeting room.
In Together Mode, rather than staring down the barrel of each of your colleagues – eyeball to eyeball – they're placed onto a more natural setting. Some reports indicate that this reduces the intensity of face-to-face contact and makes it easier to "scan the room" for reactions.
So Together Mode or Immersive View are not just gimmicks. They could actually help to reduce your Zoom fatigue.
2. Share content during your meetings
Another way to shift the focus and reduce Zoom fatigue is to share content during your meeting. I'm not just talking about reading PowerPoint slides to people. I'm talking about using the whiteboard to have an engaging and focused conversation during your meetings. That's something that we will cover during this series. So, if you're not subscribed to our OzTabletPc YouTube channel, go ahead and do that. Hit the notification bell too, because we'll have a new one of these videos on Teams for you every week.
3. Turn off Self-View
Zoom has an option to turn off your Self View. Teams are adding this feature soon. It's something that you should strongly consider using if you're doing a lot of video conferences. Sure, you'll want to check yourself before you show up on video. But once you've joined and the meeting begins, seeing yourself only serves as a distraction. So go ahead and put the mirror away. You'll feel better about it.
How to Effectively Manage Zoom Fatigue Organizationally
1. Incorporate some "off camera" time
As a presenter and trainer, I've spent far too long talking to empty black boxes. I always encourage people to turn their videos on during my training sessions. I find wild variation between organizations here. In some organizations everyone turns their video on and appears to be happy to do it. In other organizations it feels like pulling teeth to get even one or two people to turn their video on. Anyone who gets up in front of an audience for a living will tell you how bleak it is to present to empty black boxes. We rely so much on the non-verbal feedback of our audience to shape our presentation.
The same applies to you and your meetings. When you're in the room you're constantly absorbing and assessing social cues. Without video there is no way to do this on a call. You cannot work effectively as a team without being able to see each other. However, we also need to acknowledge that there are times when you need to take a break from video. Being on a camera all day long is highly fatiguing. So, discuss this with your team and make sure that you have an agreement that it's OK to be off camera at times.
2. Do not schedule back-to-back video conferences
Make sure that your team members have plenty of time when they're not required to be on a conference call. Many organizations have a culture of back-to-back meetings that undoubtedly leaves staff feeling exhausted and burnt out. We've even read reports from companies who require their staff to be on camera 9 to 5 all day every day. That is simply poisonous when you consider this research. So, if your team is scheduling hours of video calls or conferences every day, then it's time to have a chat about the way you're working.
Zoom, or Video conferencing fatigue is real, and as technology leaders it's something that we should all be very conscious of. There is no doubt that video calling has serious benefits. It enables us to work more flexibly than ever before. And it enables us to connect at work with people who were out of reach who previously got left behind in the past. It's an amazing tool for sure. But it's not a replacement for all face-to-face meetings. Like every piece of technology, we need to carefully consider its use.
Are you feeling Zoom fatigue? Don't wonder, take the Zoom Exhaustion & Fatigue Scale test from Stanford University.