Over the last year, TX2500 users from all over the world contacted us with their reviews. For the most part, users praised the Tx2000 series as a great Tablet.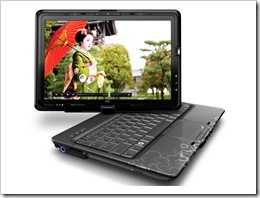 However, on occasions we have heard complaints of excessive heat and fan noise.
Take for example some comments from our Tx2000 post on this blog:
Webmonkey: "Fan noise; seems to vary for no apparent reason, even when idle reading a webpage."

MEDA CALDERON: "My problem is the fan noise….as i open the laptop the noise at the fan doesn't stop until i put it off… What should I do?"

Joachim Schneider: "If you're in a loud environment, it's a great laptop. The build-in speakers sure can overcome the fan noise. But if you need it quiet, get something else."
On the other hand, Tablet PC review reported that heat was a problem, but were less scathing about it:
Heat and Noise

The tx2500 does tend to get warm, especially when running benchmarks or working hard. I didn't notice much heat when browsing the Web or going through emails, but the bottom does get a little warm. When the tablet is running multiple applications or benchmarks the fan kicks on and the heat comes blowing out the vent and it is hot to the touch. This is after a few hours of being on though. I didn't notice any part of the tablet to be so warm it was uncomfortable though, except for the bottom under extreme working conditions.
I didn't notice any noise from the tx2500 either. The only time the tablet was noisy was when I ran benchmarks and that is when the fan kicked on high. It was annoying and sounded like a hair dryer. Besides that the fan didn't kick on much and even when it ran on a low setting it was quiet.
The heat generation on this unit is undoubtedly linked directly to the AMD Turion processor. Whilst it is a great mobile processor, it doesn't compete with the power saving performance properties of Intel low voltage Centrino Core 2 Duo processors found in higher end Tablet PCs.
In this case, power consumption results in heat generation, and therefore fan noise.
Fortunately HP have published some advice for those who want to keep their TX tablets quiet.
According to HP:
The electrical components in a PC generate heat, and fans inside the PC help move the air to keep the components cooled to normal operating temperatures.

Inadequate cooling can cause excess heat which forces the fan to run constantly, can damage components, and limit the speed of the CPU. All of these problems with high power and high heat will cause applications to work slower than normal.
So, if you want to have a go at cleaning your HP Tx series to keep it running fast and quiet, check out this article on the HP website.