It is only a couple months since we blogged about the future of Tablet PCs and Multi-Touch screens. We predicted 12-18 months before Multi-Touch would hit the market… how wrong we were.
"Multi-Touch" in this context refers to the new generation of capacitive touch screens that can detect multiple points of contact at once. The more commonly found resistive touch screens can only determine one point of contact at a time.
Capacitive touch is the hardware enables those iPhone style functions like:
Two fingered scrolling
Pinch zooming
Two finger tapping
Swipe style gestures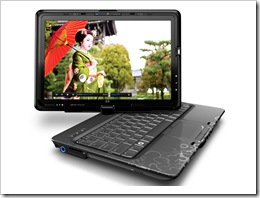 Unlike resistive touch screens, capacitive touch screen only require a negligible contact pressure to function. That makes capacitive touch much easier to use for finger functions.
There are two Tablet PCs that currently include capacitive touch screens:
The new HP Tx2
Dell Latitude XT2
We'll have more details and video reviews on both models in the near future. Both are now available.
Of course, iPhone style functions require software support and both HP and Dell have enabled this to a certain extent.
The upcoming Windows 7 will also enable much broader support for multi-touch.