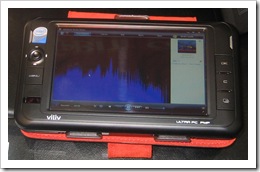 We've been lamenting the lack of slate UMPC options lately, but finally the gods of UMPC have answered our call with the Viliv S5.
We got up to CeBIT in Sydney last week and got our hands on the Viliv S5 and lots of other goodies.
Our first impression was of the size of the device. Not much bigger than its 5" screen, the Viliv is very "pocketable", at least for a suit pocket.
It includes 3G and a built in GPS (Sirf Star III) which is going to open up lots of Mobile computing horizons. The screen is not too hard to read, even with the 1024 x 768 resolution on such a small screen. We didn't get to try it outside yet though.
Viliv ship this unit with Windows XP home and not the XP Tablet Edition. We find that resistive touch screens are pretty poor at handwriting recognition anyway, so the Tablet Input Panel is not really missed on this.
Viliv's on screen keyboard software with haptic feedback was very easy to use. I found that with about 5 minutes of practice I was happily typing away. For users with specific key entry requirements there are dozens of on screen keyboard applications that will work well on this device.
The Atom processor on the S5 was very capable. We didn't notice any slowness or lag during our demo. The unit comes with 1Gb RAM which we assume could be expanded to 2Gb. Battery life is exceptional at 6 hours.
Best of all, we think the pricing is awesome!
Pricing:
| | |
| --- | --- |
| Viliv S5 Premium | $1,289.00 Inc GST |
| Viliv S5 Premium Air (3G / Next G)  | $1,459.00 Inc GST |
Stock is arriving very soon, so get your orders in now.