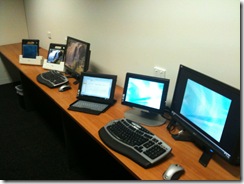 Since Tablet PCs are generally designed for business applications, they are very difficult to find on display in retail shops.
Many of our customers have asked for place they can go to get their hands on the latest Tablet PCs.
We have listened, and we are happy to announce that we have opened a demonstration centre Mulgrave (South East Melbourne).
Here you will be able to see the Tablet PC operating system for yourself, as well as:
Try out handwriting recognition
See digital ink in action in Microsoft Office and other applications
Test applications specifically designed for your business and Tablet PCs
Get your hands on the latest Tablet PC hardware
Address:
Suite 4 (Datacard offices)
2 Gilda Court,
Mulgrave Vic 3170
The demonstration centre is open to business customers from 9 AM to 5 PM Monday to Friday.
However, demonstrations are strictly by appointment. So please call ahead to book an appointment.
Call us on 03 9999 1601 to book an appointment.