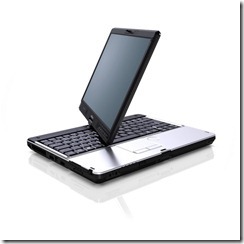 Fujitsu have announced a coming update to their top of range Tablet PC (Lifebook T900) – Fujitsu Lifebook T901.
There are two variations due for Australian release in April and June 2011.
Updated features for April model include:
USB 3.0 – For faster connectivity to USB devices (Memory keys, Hard Drive etc)
Better screen bezel – The space between the edge of the LED screen and the bezel has been widened making it easier to get into the corners… The bezel also has a gentler angle to allow your fingers into the corners.
Slightly revised design but using the same battery and accessories as the T900
"Sandy Bridge" processor – an improved and updated version of the powerful Intel Core i7.
Updated for June model (in addition to the above):
NVIDIA Optimus dedicated graphics
For several years now, there has only been one Tablet that offered integrated graphics (HP Tm2), but it wasn't up to business standards. For customers who wanted to do things like run AutoCAD, Advanced Video Editing or Graphics work there were simply no great options… until now.
The new T901 will be the only Tablet PC available with dedicated graphics (HP Tm2 is no longer sold in Australia). Coupling the NVIDIA Optimus GPU with the Intel Core i7 should make the T901 the most powerful Tablet PC on the market by far.
Take a look at a preview of the T901 below:
Fujitsu Lifebook T901 in Action at CES2011 in Las Vegas.
For detailed specs, visit the Fujitsu US website. Bear in mind that the Australian configurations have not yet been announced and selected configurations from this document will be available.