The Fujitsu Stylistic Q702 Tablet PC is now available to order from the Tablet PC Store!
We recently took another look at a prototype of the upcoming Fujitsu Q702 and were intrigued to find a new N-Trig Active Digitizer Pen attached!
Here's a picture of the new N-Trig G4 DuoSense Pen from the Fujitsu Stylistic Q702: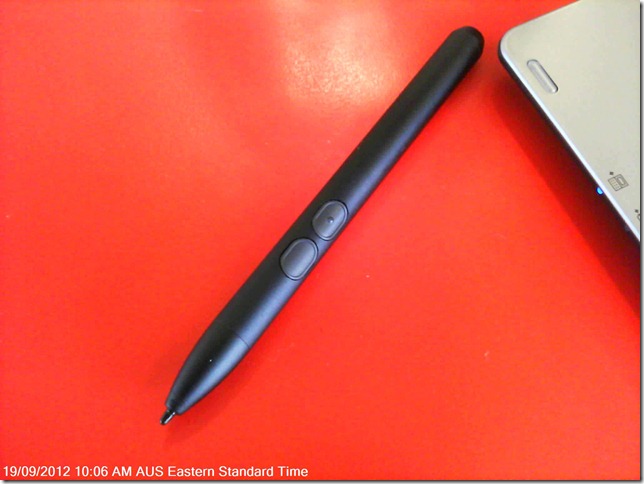 This new pen is a major breakthrough for the Q702 and N-Trig tablets everywhere!
Long term pen tablet users like us have used the Wacom Active Digitizer Pen and going to the previous N-Trig pens was generally a poor experience.
Here's what N-Trig have changed on the new G4 pen:
Pen tip action is now much finer
There is no "clicky" feel and no noise
Eraser function is available with the extra pen button
End of the pen is rounded and feels much nicer.
When you put those refinements together with the high performance "Ivy Bridge" Intel Core i5 processor that is in the Q702 you have a pen experience that is on par with the Wacom Active Digitizer Pen. Wacom has been the gold standard on Microsoft Windows pen tablets for over 10 years.
The Q702's N-Trig G4 Pen is still powered by a AAAA battery which will last a few months of use. But the upside of Fujitsu's selection of N-Trig is that the technology is usually much better calibrated that the Wacom equivalent.