When I run Teams training in organizations, I often ask the group – do you prefer to send an email to each other or a chat? The responses vary wildly. A group will usually skew one way or the other, and its not necessarily generational.
So I usually ask the chat people, what do you prefer about chat. The most common answer is, "I prefer chat because it's instant."
I get why they say it, but I'm sorry to say that they're wrong. They're close though.
Chat isn't "Instant"
Let me explain. You might send someone a message when they're on the phone, talking with a colleague, or busy doing some deep work. They could even be busy in their inbox answering emails. If that's the case, you won't get an instant response at all.
But chat does feel faster
But, if you dig a little deeper there are elements of chat that we don't get in email that give the feeling of speed. The first is the status indicator. Is the person busy, available or away from their computer? You get that feedback straight away. Then when you send a message, it tells you when it was delivered, and even when it was seen. Even if you can't respond straight away, you can acknowledge the message with a reaction.
With chat, our messages tend to be less formal, more concise, meaning they're much easier to scan. For example, a five line exchange by email might take up several pages. Whereas a similar exchange in chat could take up just five lines! And those messages are filed under the recipient's name, along with a continuous history of conversation – all easily searchable.
The problem with your inbox
On the other hand, If you look at your inbox, it's a collector of all messages from everyone – inside and outside of your organization. There's advertising, messaging and the occasional communication. It's filled with old school formalities like greetings and signature blocks.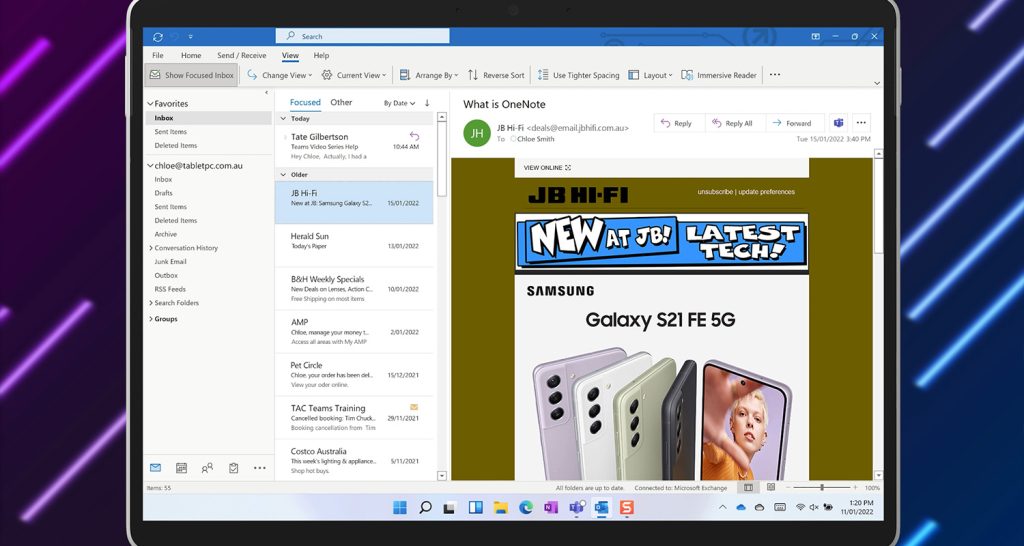 More features with Chat
In Teams, you can chat with one person, or many. You can send emojis, and gifs; run a poll; even share a file that everyone can edit at the same time.
But before you decide to pivot all of your messaging into chat, take a moment first. Chat, like email has an important place in your communication toolkit. But there are limitations.
For example, it does not allow you to thread together conversations like email does. It's really best used for casual conversations and questions rather than formal work. For that, we have Teams… In Teams. So in our next video, we'll take a look at the Teams part of Teams – which is the ultimate place for Teamwork in Teams… For the Team.